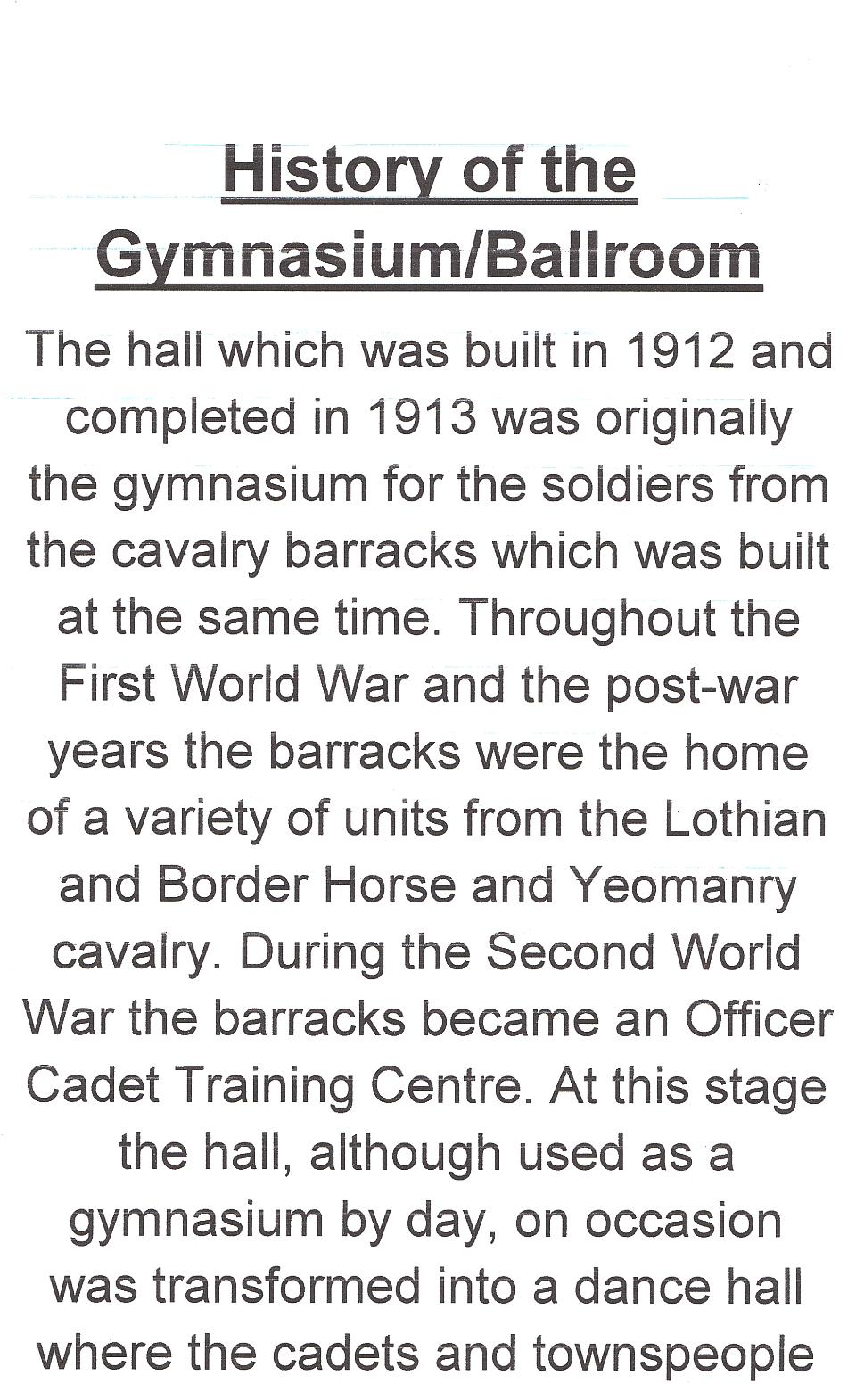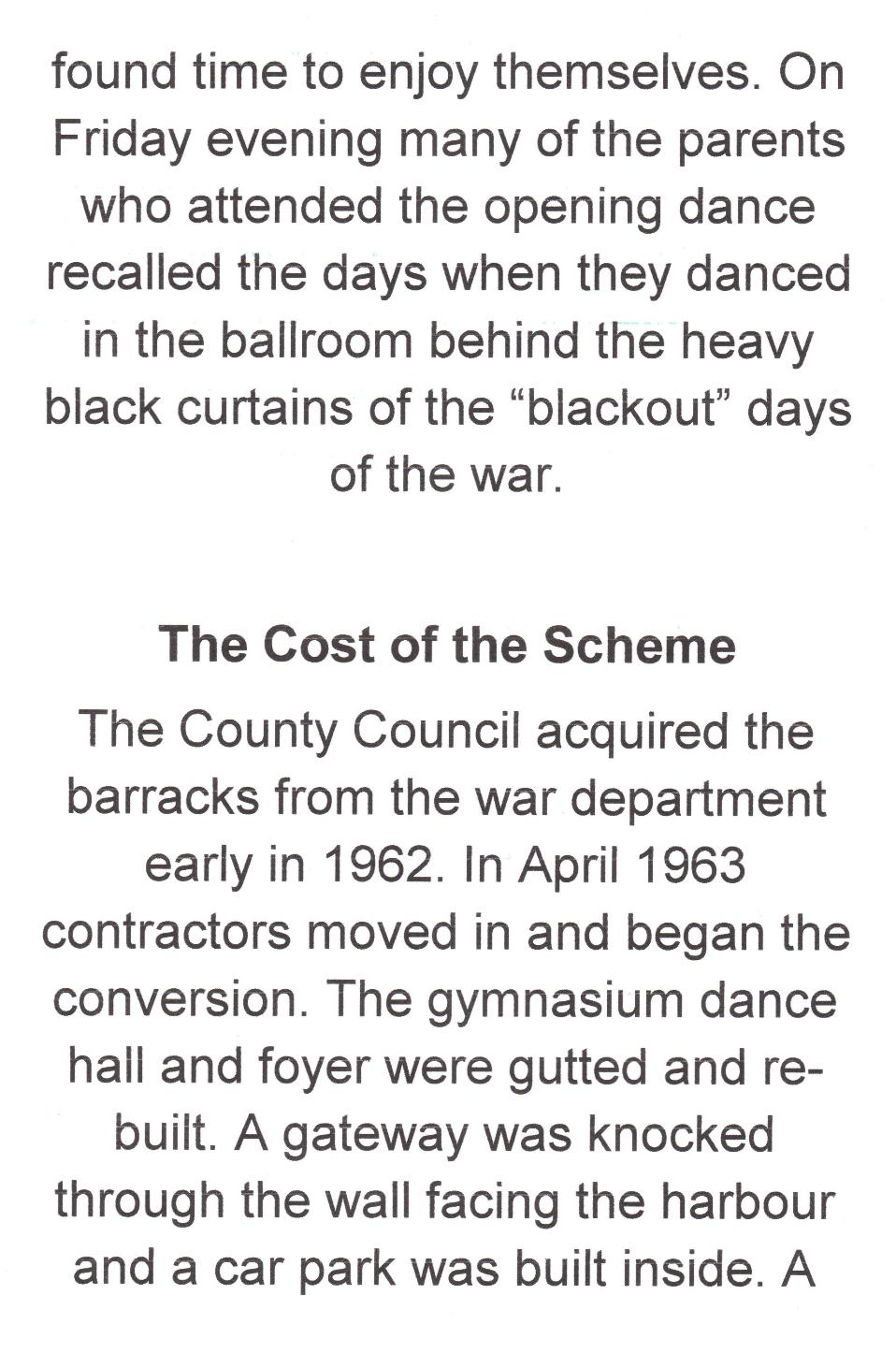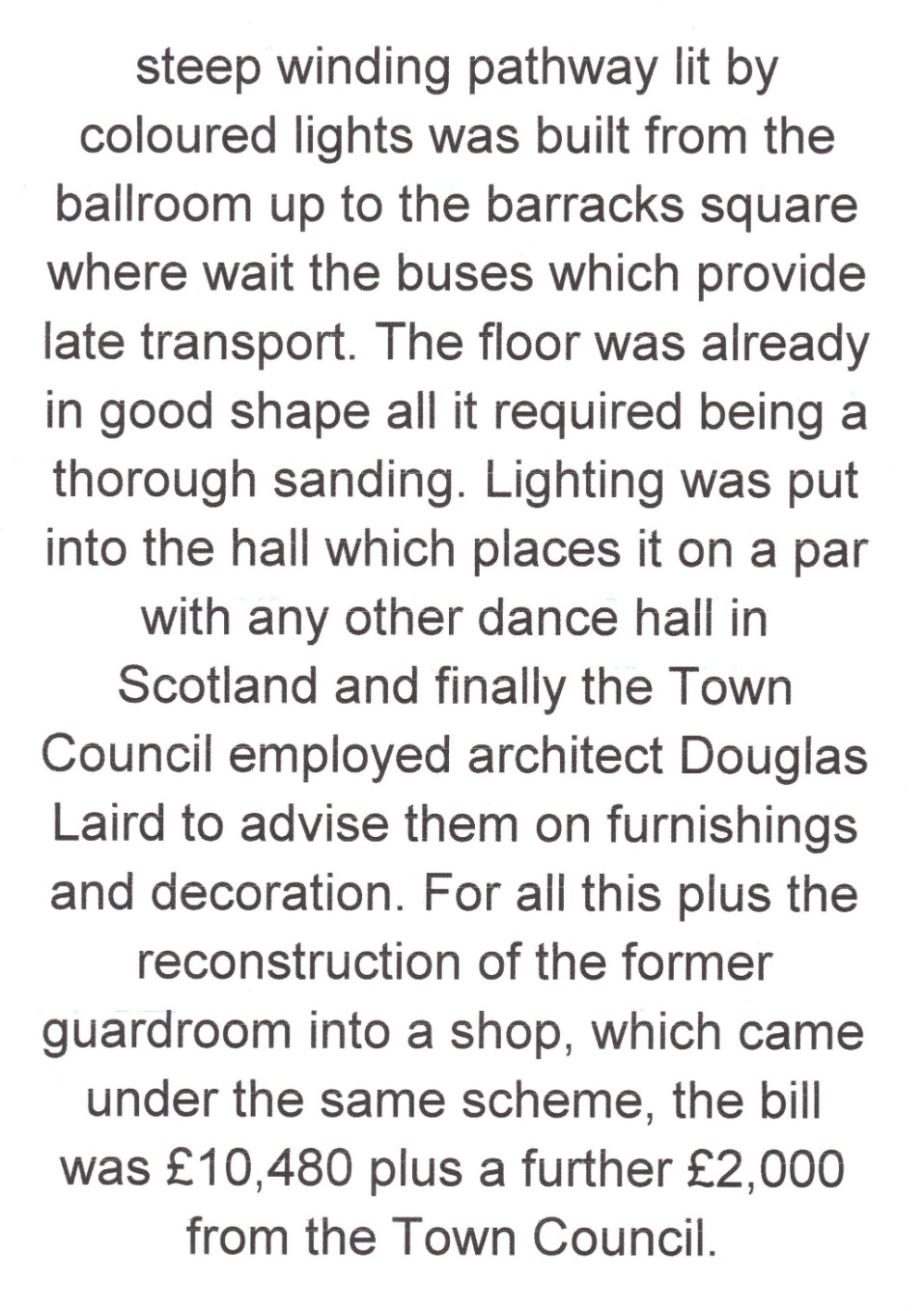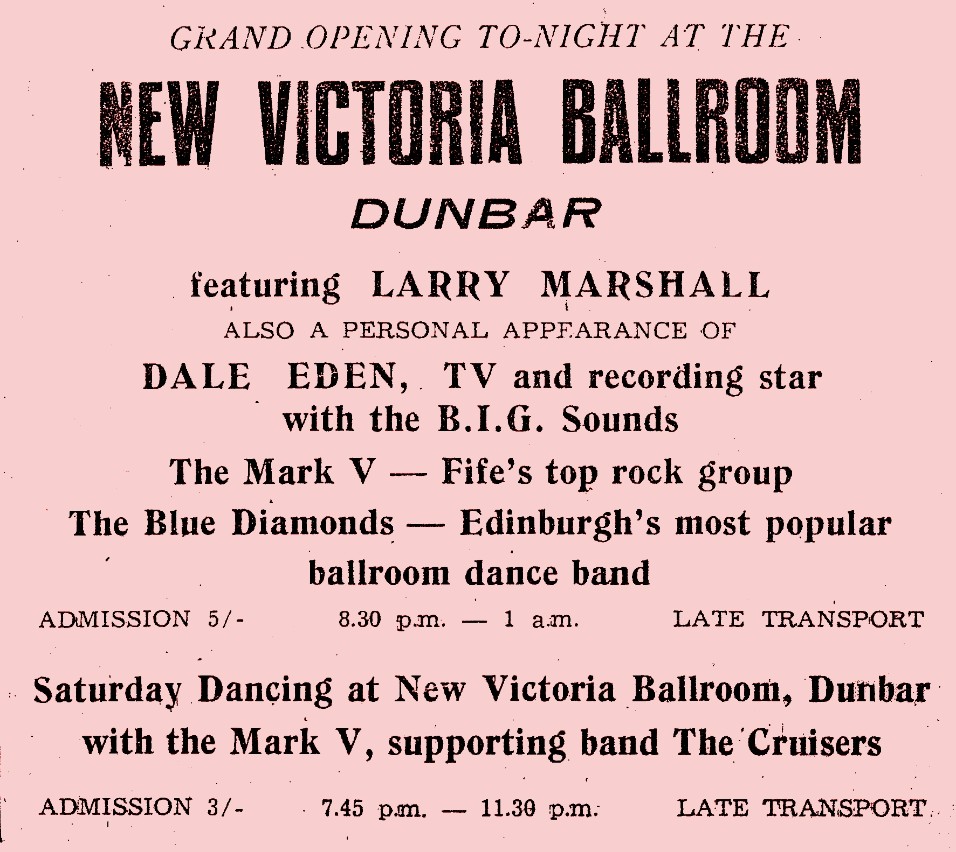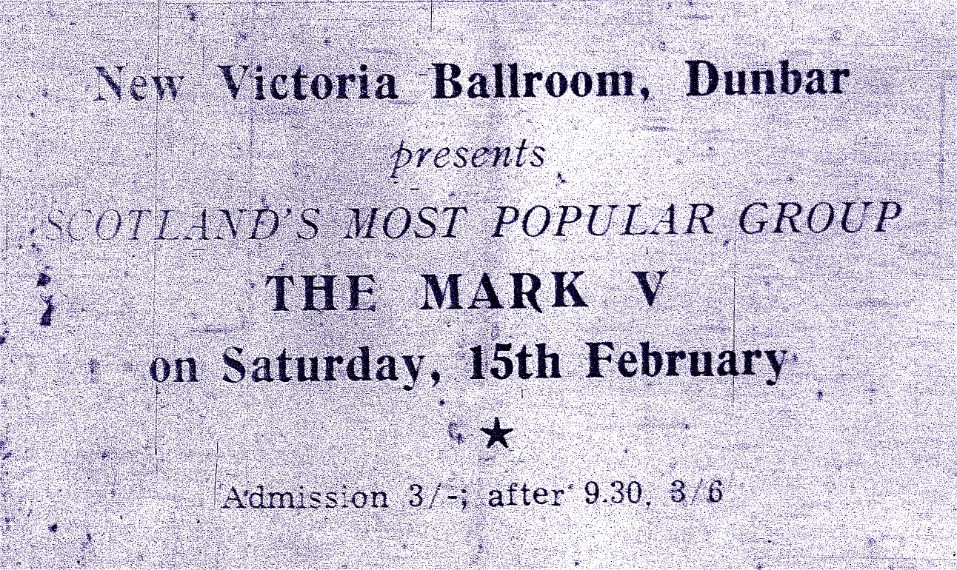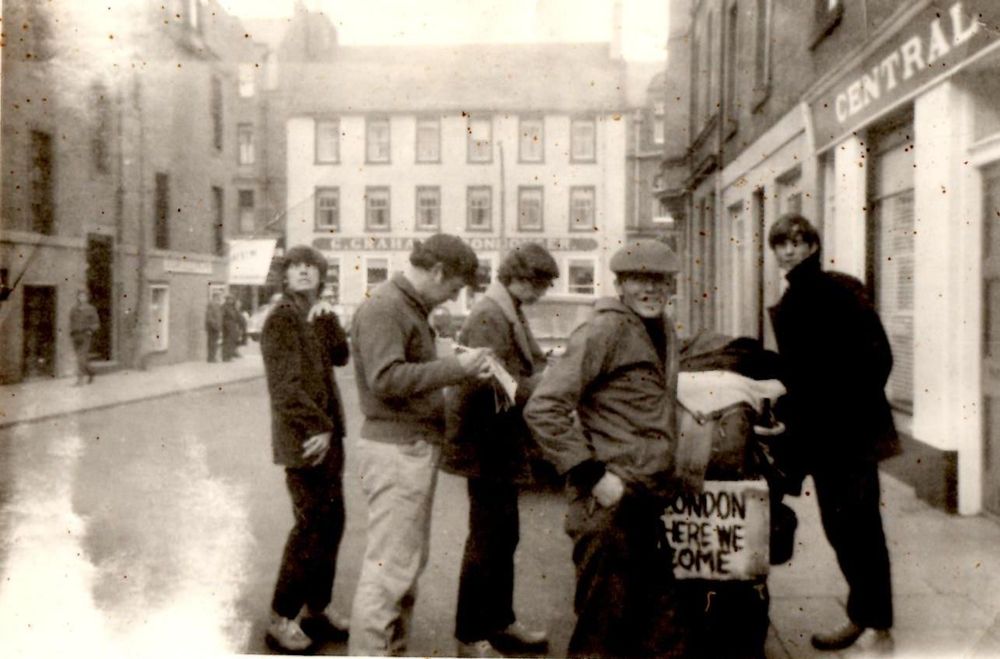 The Mark V outside the "Central" in Dunbar en route to Britain's capital pushing a coffin in order to gain a recording contract. Incidentally, they gained one with Fontana and released the single placed above. This 45 was until recently at a Dunbar record shop for £60.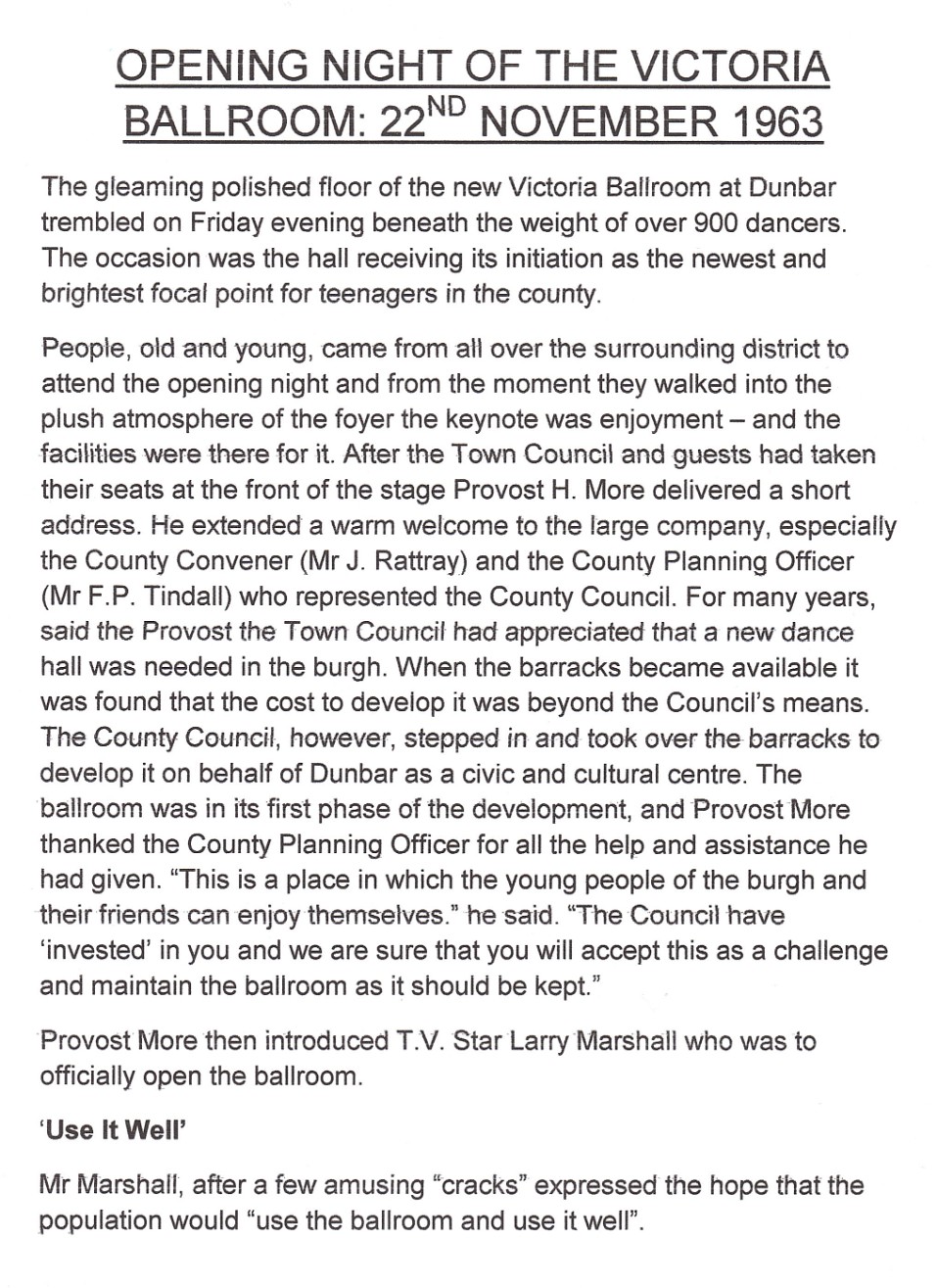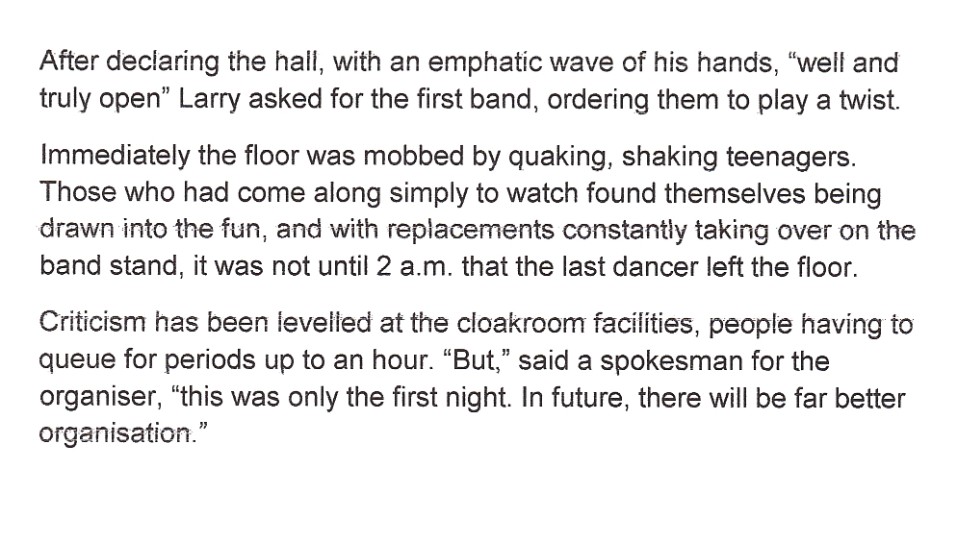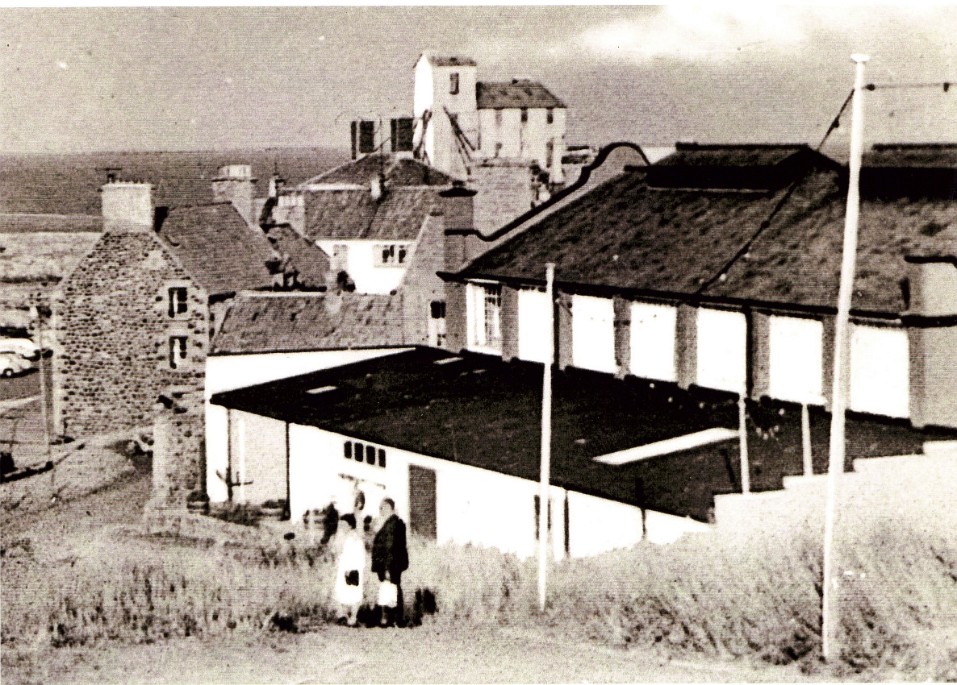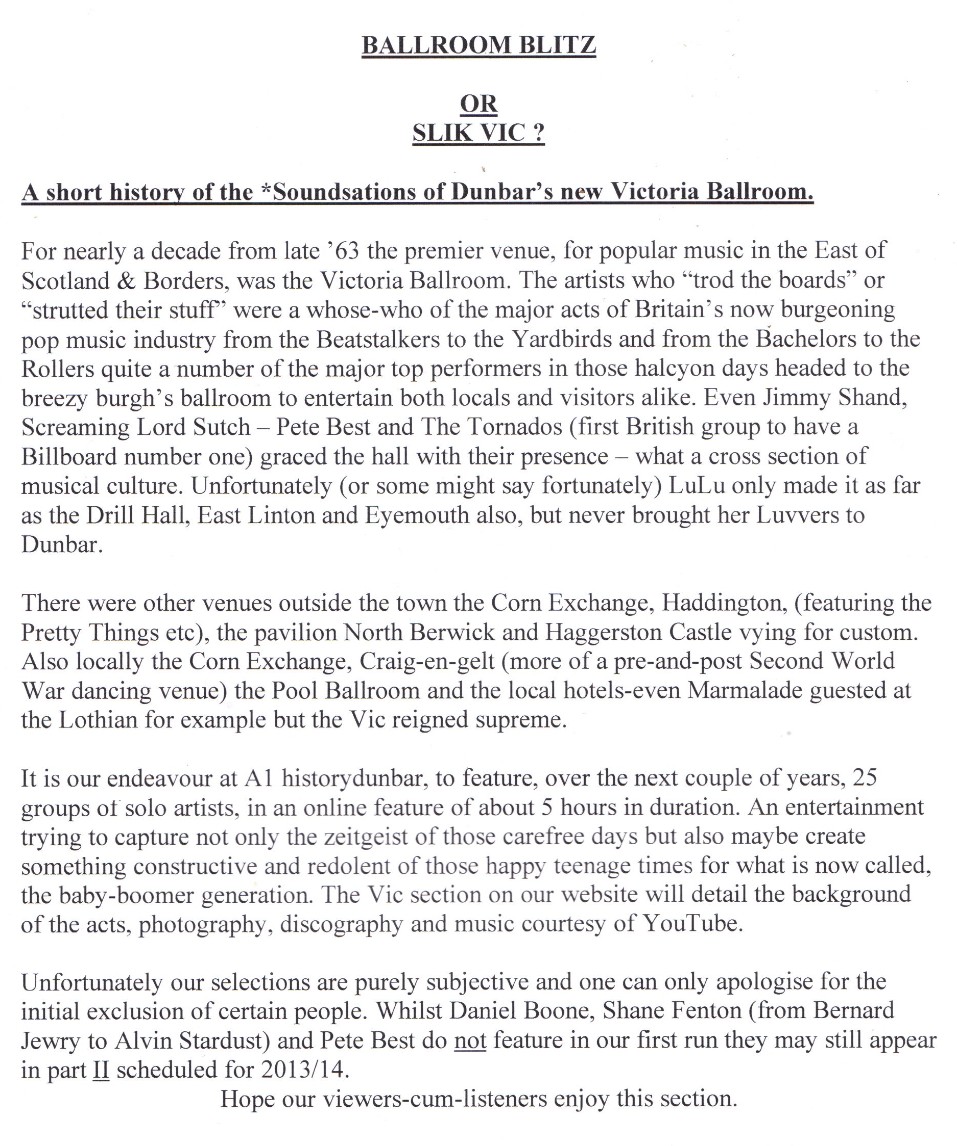 Comptroller's Note

* Soundsations was a coinage for a local group, in the Early Sixties from Bromley, Kent (members were Mike Breslin, John Harrison and 15 year old Claptonesque Peter Frampton who also played with The Herd, Humble Pie and Camel).
And while on the local topic Dunbar's own Nick and the Sinners & other local groups will not be forgotten. Nor will the (golden) stones, the Empire Beat Club - where Mark 5 sometimes played on a Sunday and even the Roxburghe - where Billy J Kramer didn't get a pour-oot.
Descriptions may change as time progresses and more suitable material is unearthed. Incidentally the 25 or so groups/solo artists featured are arranged chronologically as per their respective appearance dates.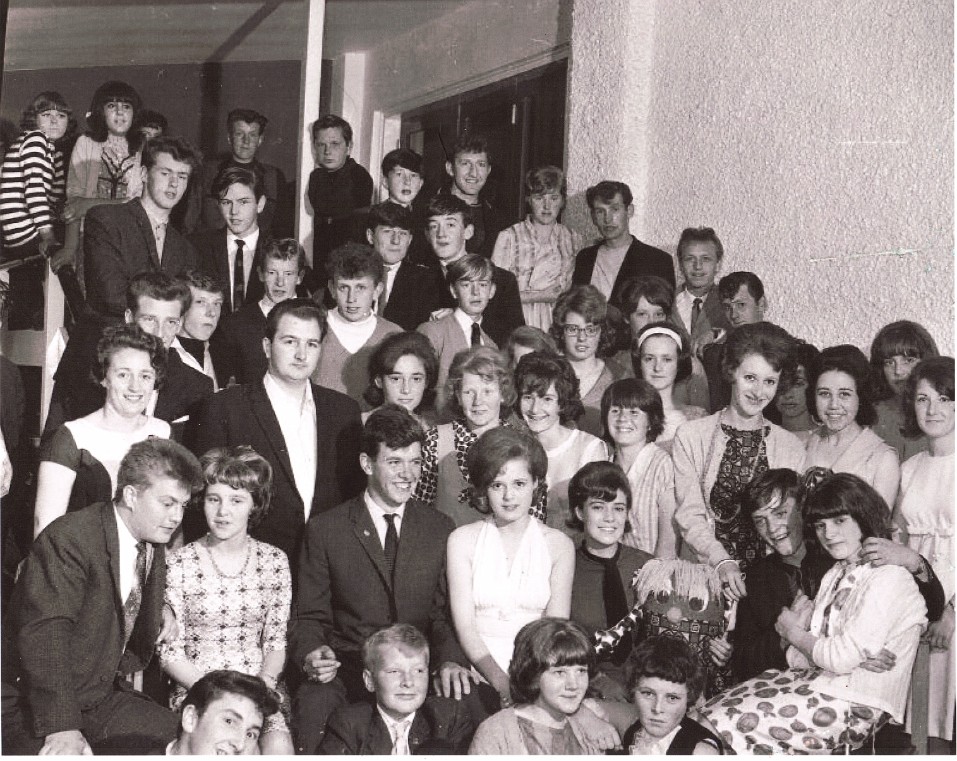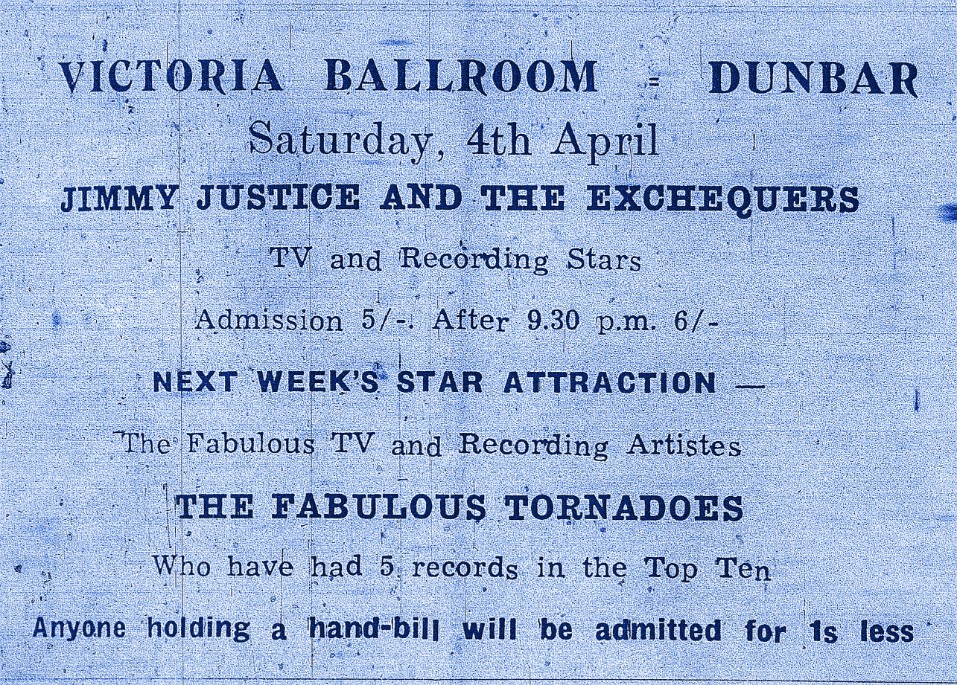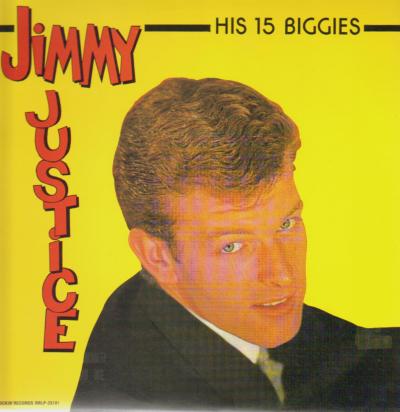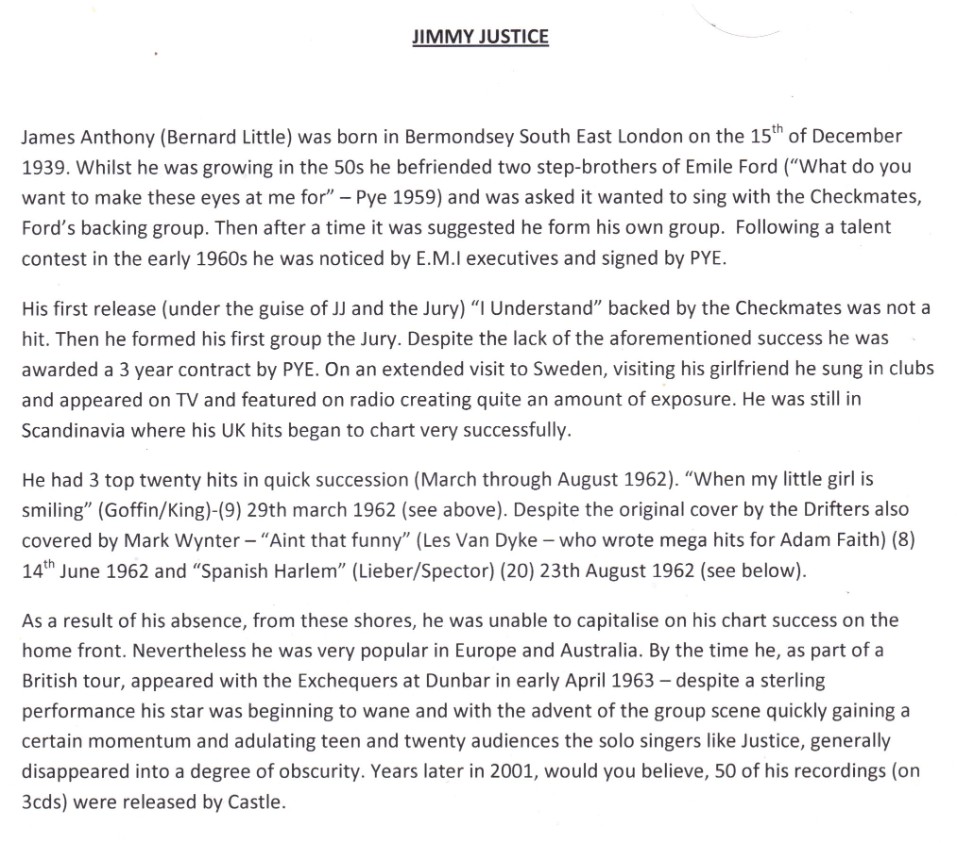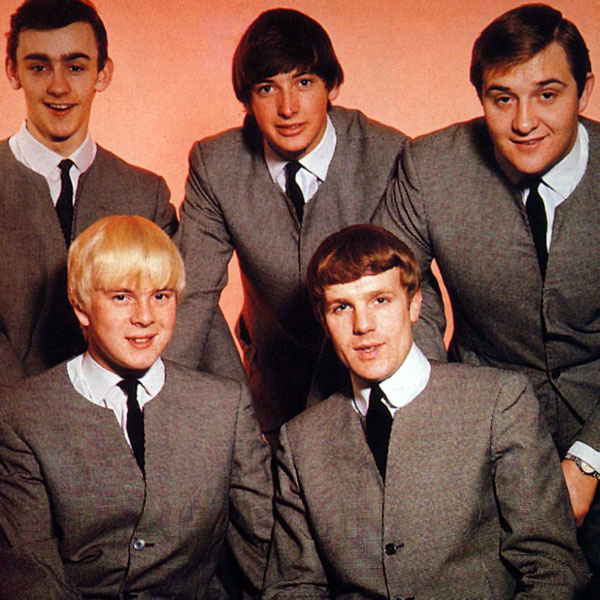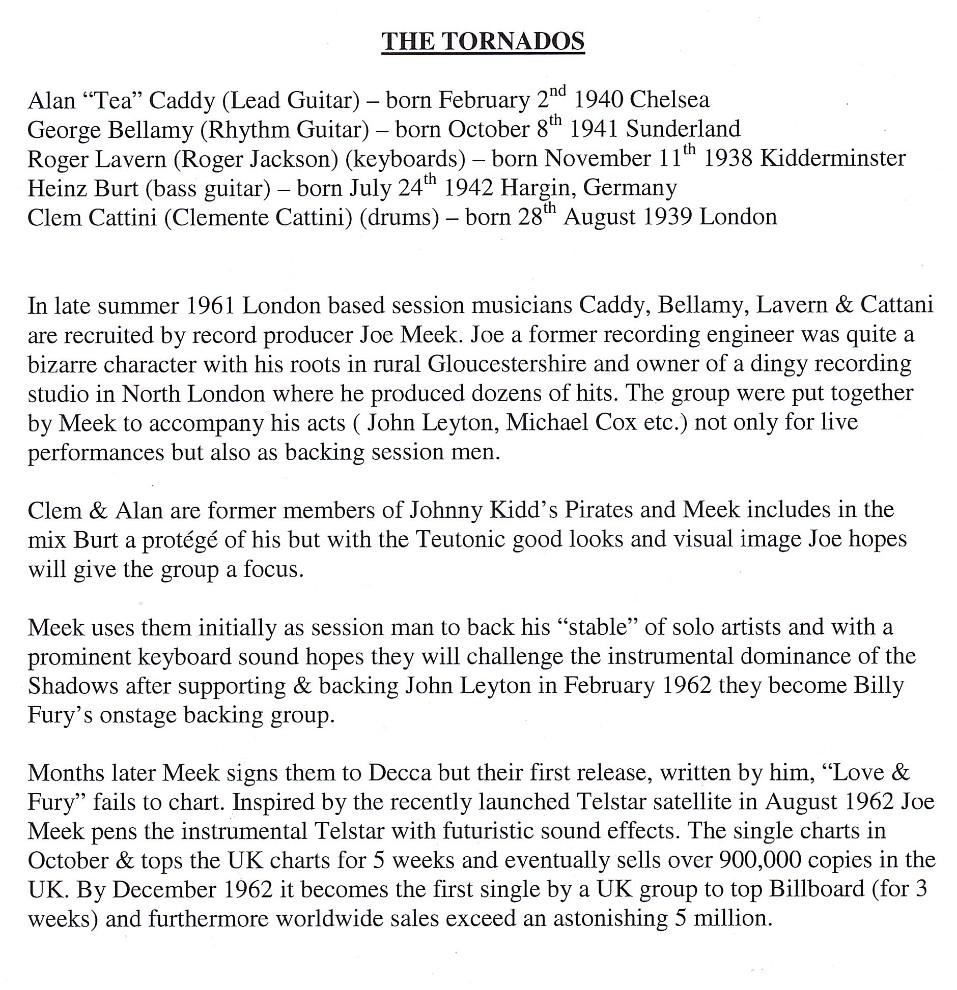 Tornados (2)
At the beginning of 1963 Heinz leaves to pursue a solo career and is replaced by Chas Hodges from The Outlaws and then by Tab Martin.
On the 10th of January 1963,
Globetrotter
, another Meek written up-tempo organ dominated instrumental not dissimilar to
Telstar
, is released. It peaks at number 5 in a top 5 which includes
Diamonds
by Jet Harris and Tony Meehan at number 1 having displaced The Shadows' Dance On. Needless to say in this instrumental world Harris and Meehan played for The Drifters (British) and their renamed group The Shadows.
During March '63 Tab Martin leaves to join another Joe Meek produced group, The Saints (they back Heinz on stage), and Brian Gregg (ex-Pirates) replaced him.
Riding the Wind
is released in the States.
Shortly,
Robot
(below), which reached number 17 on the week ending 21st March 1963, is released and the group appears in the UK movie entitled Just for Fun playing
All the Stars in the Sky
.
The group appear at the Victoria Ballroom on the 11th of April 1964. Although their heady days were somewhat behind them, their music was well received though lacking not only the sex symbol Burt, but also the cavernous echo-drenched sound of La Vern's swirling organ of their Meek produced recordings made in his home built and equipped studio (nicknamed The Bathroom) in his Holloway Road flat.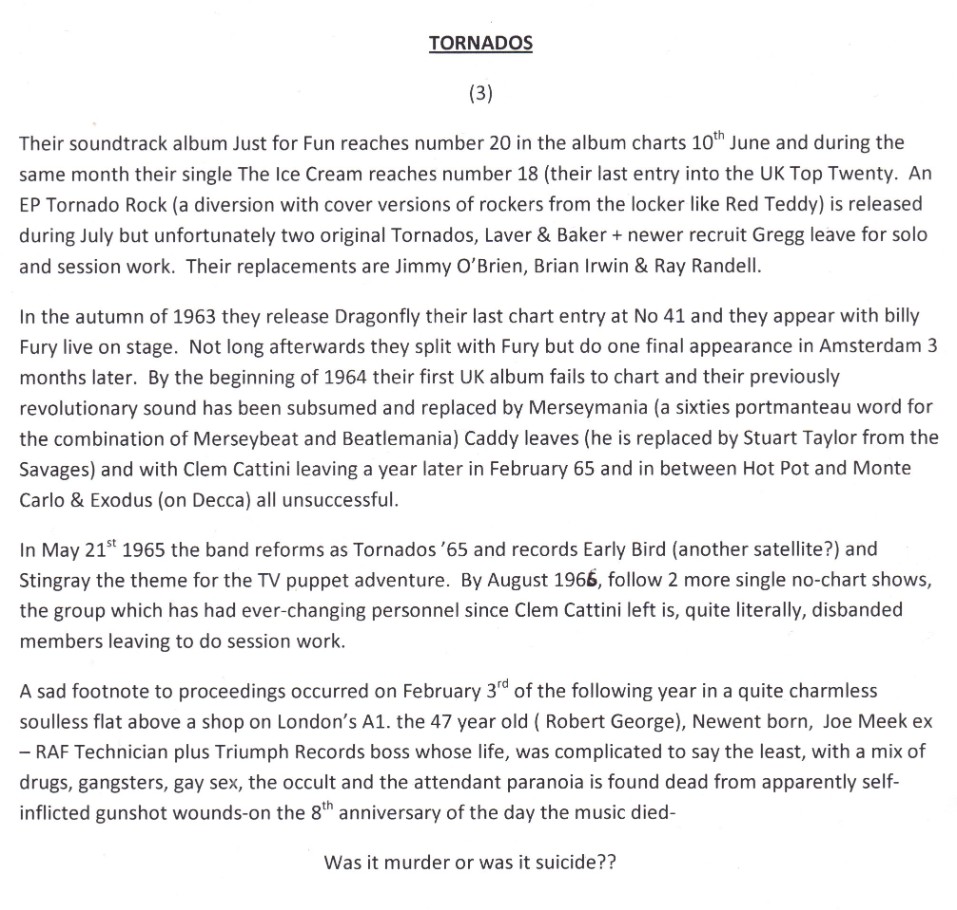 Comptroller's Note

It would be churlish not to select a song in memory of Meek - a multi-faceted man who not only "gave us" The Tornados but also another session-man group The Outlaws (who boasted one Purple Rainbow man Ritchie Blackmore amongst their ranks).
In fact there was a seventies connection with him and a former member of Dunbar's own Nick and the Sinners q.v. - No not you yet Lloyd.

Enough discographic prattle!
The song, one of his final hits, by The Cryin' Shames (from 1966 ) was especially popular at Dunbar Discos like the Golden Stones and is featured below.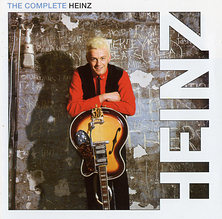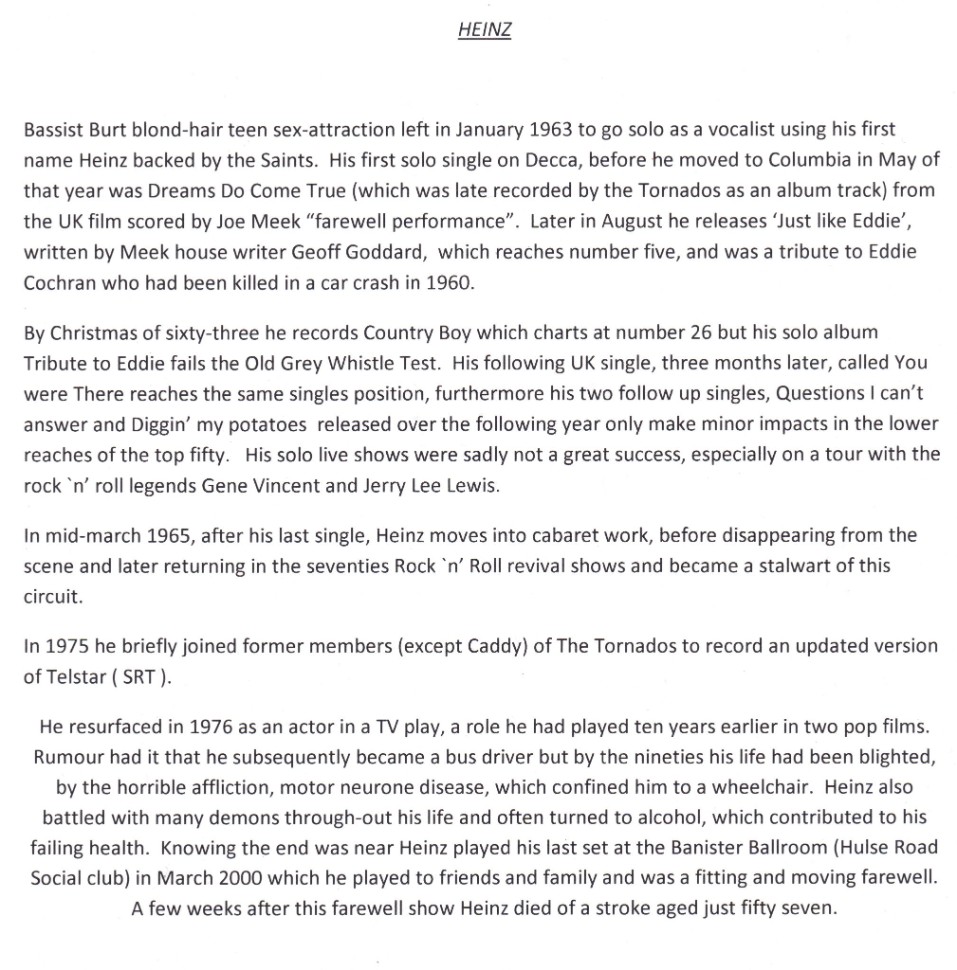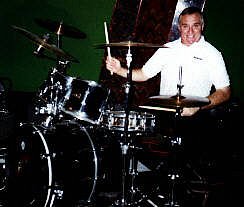 CLEM CATTINI (cont'd)
After becoming the last of the original Tornados to depart, in February 1965, he Joined the touring band Division Two behind the hit makers Ivy League (Carter/Lewis/Ford–Burrows/Landon etc.). They transmogrified into Flowerpot Men then First Class then -------???
Coupled with session work through the 70s & 80s Clem was in demand and as busy as ever. Then in the late 1990s he re-joins Tony Burrows and company in the HIT SQUAD even though he is approaching his 60s.
The track Beach Baby (5: 01), above, was a June 7th 1974 lucky no. 13 hit for the FIRST CLASS. It is identical to its "supposed" re-recording on the 1999 album below
Details of the following album are:-
TONY BURROWS* & THE HIT SQUAD - All The Hits plus More
The HIT SQUAD are:Clem Cattini, Chris Parren: keyboards/vocals, Mickey Keen: guitar, Alan Carvell: bass/vocals
Track 12 is Beach Baby (Carter **/Shakespeare)
*The voice that launched 1000 Groups.
** The song is credited to Carter/Shakespeare. However Carter's real name was Shakespeare.
Does this mean double royalties?
Or more confusion and a joke in the session scene?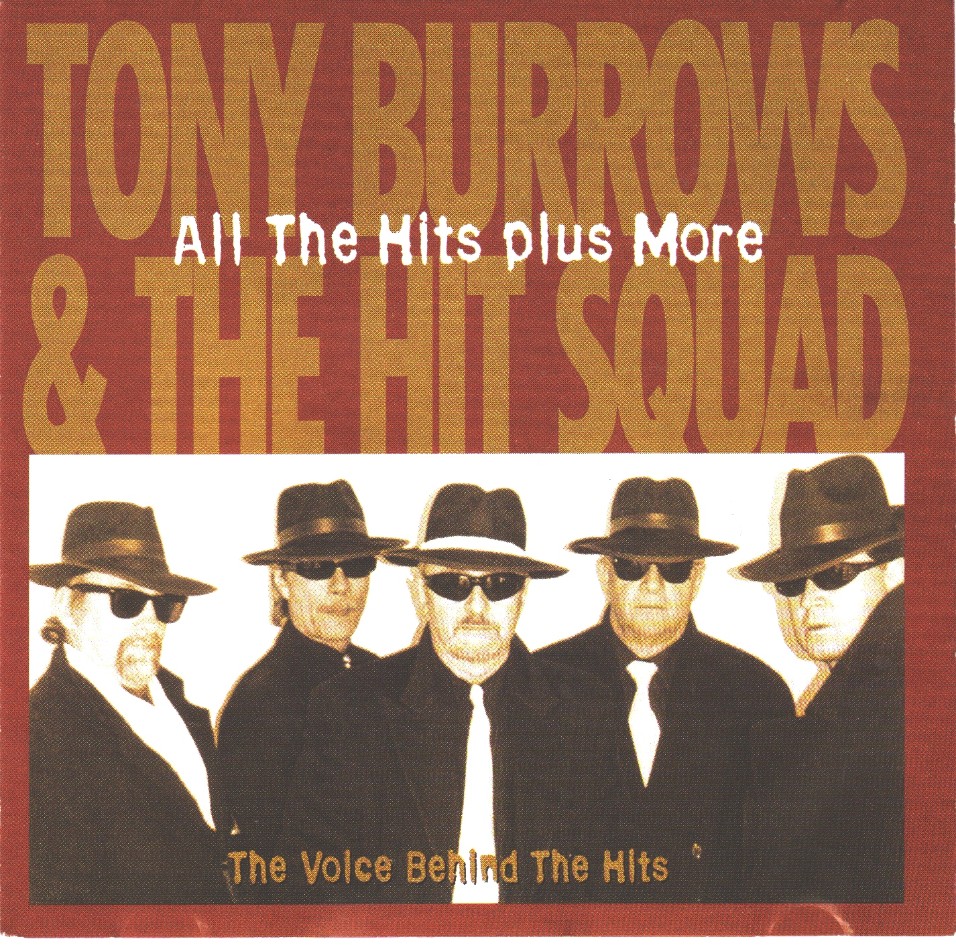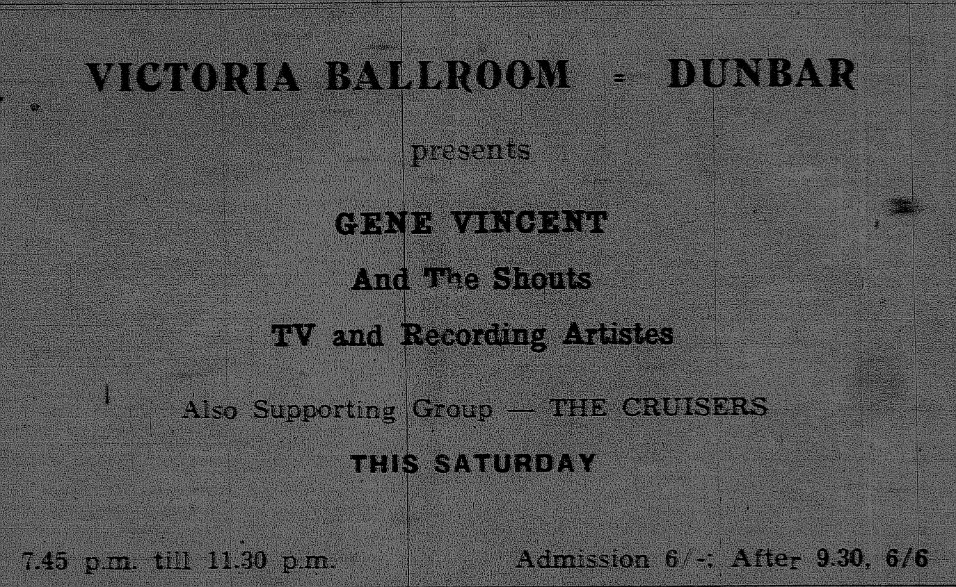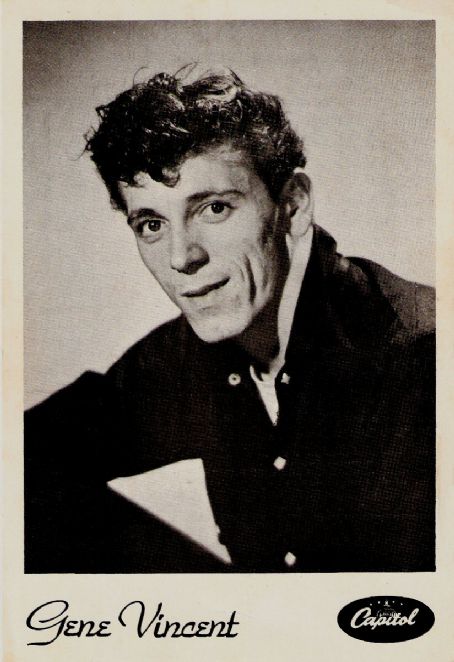 GENE VINCENT
(I)
Gene Vincent (born Vincent Eugene Craddock on 11/02/35) was the son of a shipyard worker and born into a poor Virginian family. He left school at 16 and joined the Merchant Navy as an apprentice boiler tender fully expecting a working life sailing the seven seas. Whilst working as a despatch rider ashore, as a result of an accident, he suffered a badly broken and injured leg in 1955 when he was 20. His broken bones did not heal properly and Gene spent some months after this May accident, even after all this trauma by the end of the year his leg was still in a plaster cast.
On his 21st birthday he married 15 year old Ruth Ann Head however, for various circumstances this marriage is doomed to fail.
During March '56 Vincent started hanging out at his local radio station – WCMS – and occasionally sat in with the house band aptly named the Virginians. After doing some singing during his navy days this situation was perfect for him to while away his extended period of R & R.
One of the songs he sang was "Be-Bop-A-Lula" possibly purchased from ex-fellow hospital patient Donald Graves though this is only one version of the story. The station's DJ "Sheriff" Tex Davis noticed the young singer and arranged for Gene to make a demo tape of the aforementioned song c/w "Race with the Devil" and "I Sure Miss You". In April 1956 the demo is sent to Capitol Records where Ken Nelson, always on the alert for another budding Elvis Presley, signed Vincent to the label after entering their "Elvis Soundalike Sweepstakes". On May 4th Ken arranged a recording session at Owen Bradley's Nashville studio using the same demo band: - Cliff Gallup (lead), Willie Williams (rhythm), Jack Neal (bass) and Dickie Harrell (drums). This group was "christened" The Blue Caps (named after President Eisenhower's golf hat). The three demo songs were then recorded with "Women Love". This record was promoted in some quarters as a Double 'A' side – What a combination Gallup's swirling guitar play backing Vincent's distorted echo enhanced soft voice (the vocals had to be recorded in a different room due to the loudness of The Blue Cap's backing) were a recipe for success. Even Elvis's own mother thought later that this release "Be-Bop-A-Lula" was her son's own recording.
In June 1956 "Women Love" (too suggestive for airplay and was as such banned by the BBC reputedly earning Vincent a $10,000 fine for lewdness and indecency in his own state) was their first release with B side "Be-Bop-A-Lula" later entering the US charts. On 4th of June they play their first live gig at Myrtle Beach, in North Carolina. In July "Be-Bop-A-Lula" hits US number 7 and in August UK number 16.
GENE VINCENT
(II)
On July 28th 1956 they make their National TV debut on "The Perry Como Show" and shortly afterwards there is a change in personnel when Williams is replaced by Paul Peek just in time for a fortnight's residency in Washington. Their only album success comes in October with "Blue Jean Bop" and a follow up single "Race with the Devil" is more successful in Britain (no 28) than in the US (no 96). Unfortunately the added stress of many performances aggravates Gene's bad leg but he ignores medical advice and even though his leg is still in a plaster cast he has it disguised as a shoe for a film appearance in "The Girl Can't Help It".
Blue Jean Bop (the single) climbs to US no 49 and UK no 16.
By the end of the year the influential Gallup, who left prior to the making of the movie, returned solely to play on their second album before leaving for good. There is now a frequently changing line up of his backing group leading to a completely new Blue Caps within 2 years.
Gene spends most of January 1957 in hospital which fortunately, in some senses, coincides with a legal wrangle which prevents Vincent from live work. Come June he has a leg-brace (long term in place of the plaster cast). The new line up of The Blue Caps is successful with the only remaining original member Harrell accompanied by Peek, Tommy Facenda and Bobby Jones with Johnny Meeks now on lead guitar.
In September 1957 "Lotta Lovin'" charts on billboard at lucky 13 and subsequently they are memorably received in Australia whilst touring with Eddie Cochran and Little Richard.
GENE VINCENT
(III)
At the beginning of 1958 his single "Dance to the Bop" – his last US hit – reaches number 23 on Billboard after it had been performed on the "Ed Sullivan Show". During March the group appears in the film "Hot Rod Gang" (British title "Fury Unleashed") and friend Eddie Cochran features as a backing singer. Two stressful tours, one West Coast and one to Canada follow and Gene, very much under strain, resorts to drinking heavily. In May he gets married, for a second time, to Darlene Hicks.
After a year without any hits Vincent splits, owing money, from the Blue Caps and he chooses to go to the North Western corner states to continue playing resorting to featuring with pick-up bands as backing having lost his union card.
Another six months pass before Gene meets and teams up with Jerry Merritt and a new band and they tour Japan (becoming in the process one of the first bands to do so) where they are greatly appreciated. Having regained his card, in August 1959 Vincent and his new band record, with the legendary Sandy Nelson on drums, a new album entitled "Crazy Times" but it is not what the US record industry wants. Following some more low-key work they accept the invitation of Larry Parnes and Jack Good and come to the UK in December of '59. Despite being without a hit in years with Good's persuasion he dons black leathers and plays quite the old soldier with his limp, he is rapturously received both in Britain and Europe.
At the beginning of 1960 "Wild Cat" hits UK 21 and the following month with Eddie Cochran co-heading they tour the UK with Eddie sporting a kilt on Scottish dates.
On April 17th 1960 the car carrying Vincent and Cochran to London Airport from Bristol crashes killing Eddie and adding to Gene's injury woes with more broken bones to contend with. The crash also damages Vincent psychologically, but after a period of R&R in the states he returns to the UK and records with the Beat Boys (Georgie Fame on piano) a track called "Pistol Packing Mama" and London becomes his base. "Pistol Packing Mama" reaches UK 15 and the album Crazy Times peaks at UK 12 for his only UK album success.
GENE VINCENT
(IV)
1961 is a relatively quiet year for Gene Vincent. During May he tours South Africa with the Mickie Most band then returns to the states and come July prior to his British "She She Little Sheila", recorded in 1959 at the "Crazy Times" LP session is released and makes number 22 on the UK charts. Come September "I'm Going Home" (backed by Sounds Incorporated) becomes his last UK hit, despite some impressive UK performances. Nine months later, with Brenda Lee headlining at their first performance in Brighton, Gene performs "Spaceship to Mars" in quite the opposite guise to his customary leathers. On the 1st of July Vincent stars at the Cavern on a bill featuring an up and coming band who shall remain nameless and by the end of November he's on a three week tour headlined by Adam Faith.
The next fifteen months of his life until March 1964 is highlighted only by his third marriage, to English girl Margaret Russell in Jan 1963, the expiration of his Capitol contract with his last recording for them being an inferior re-recording of "Be-Bop-A-Lula".
On March 20 1964 he embarks on a UK tour with Carl Perkins, headlined by the Animals. Although on the Scots league of that tour the names appear at different venues with the Animals going to the Corn Exchange, Haddington and Perkins elsewhere.

Gene Vincent came to the Victoria Ballroom on the 16th May – Sandwiched between the Pete Best group on Saturday 2nd and The Bachelors (for the first of their three performances over a number of years) on Sunday the 24th.
To those present at the Dunbar date, this was Gene Vincent's return to his showmanesque prime. Carried on to the stage seemingly zonked (excuse the sixties neologism) through Speed and drink as soon as the "band struck up" he embarked on his repertoire of Rock n' Roll never witnessed before or after – a perfect performance at the premier East Coast venue. What a transformation from the black-leathered limping shadow to the doyen of rockers having the crowd Boppin' in the Ballroom.
GENE VINCENT
(V)
Come the autumn of 1964 Gene records in London, issued on Columbia, "Shakin' up a Storm" and by the end of the year he has flown back to the states to be with his parents at Christmas.
By March '65 he has had an ENT operation in Holborn then in July he spends the summer quarter in Blackpool doing the Summer season on the South Pier. Subsequently, in the autumn he divorces his third wife and marries South African singer Jackie Frisco and at the end of 1965 he is fined for breach of his contract with his manager.
Not much is known about the next 3½ oblivious years of his life excepting the recording of a country style album mid-way in LA and the release of "Bird-Doggin'" in Britain in 67. Much of the time must have been spent in relative obscurity, fighting his demons and disability stateside.
On September 13th 1969, luckily, he performs at the Toronto Rock n' Roll Festival with some of his peers plus The Doors and the Plastic Ono Band but he is totally overshadowed by Chuck Berry and Johnny Lee Lewis. He then returns to our friendly shores with his new touring/backing group The Wild Angels and is subsequently featured in a BBC documentary "The Rock N Roll Singer".
After this he records with two different record labels; Dandelion (under the aegis of John Peel with "I'm Back and I'm Proud") and Kama Sutra (2 country albums – Gene Vincent and The World Turned Blue). In the summer of 1970 his personal, social and working lives deteriorate dramatically when depression, drinking and lack of commercial success are added to the mix it has a dire effect on his still very professional stage shows – Then his fourth wife leaves him. By September 1971 he embarks upon a chaotic tour having just recorded 5 songs at BBC Maida Vale studios with Kansas Hook.
On October the 12th 1971, after returning to the states to raise funds, he is admitted to the Newhall, CA hospital where he dies of a bleeding ulcer.
What more can one say about the Keeper of the Flame? Maybe just listen to Ian Dury's 1977 lament "Sweet Gene Vincent".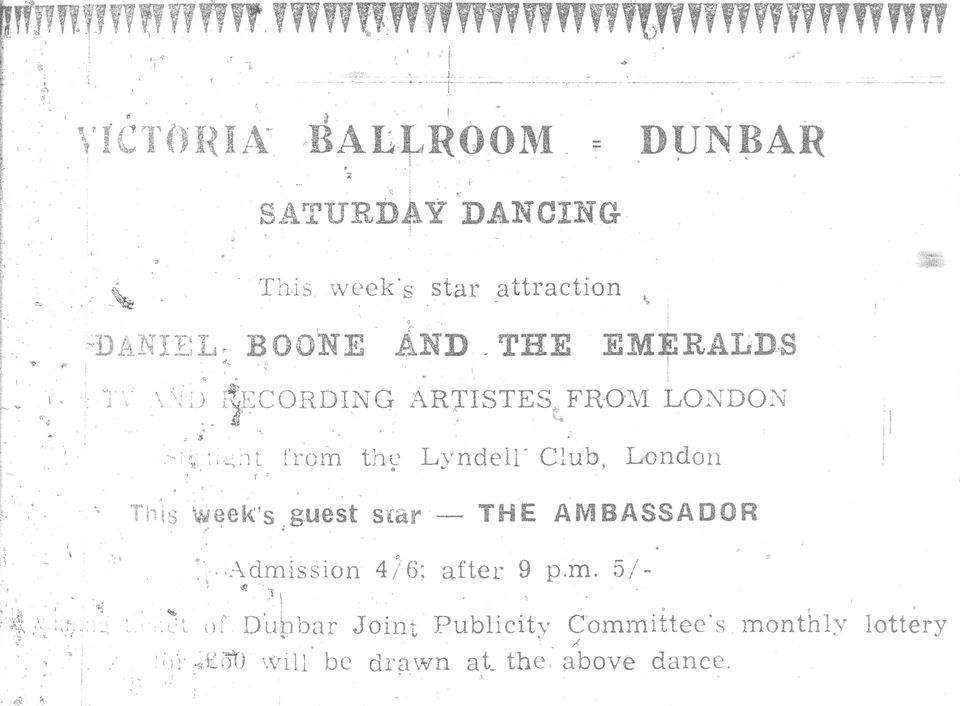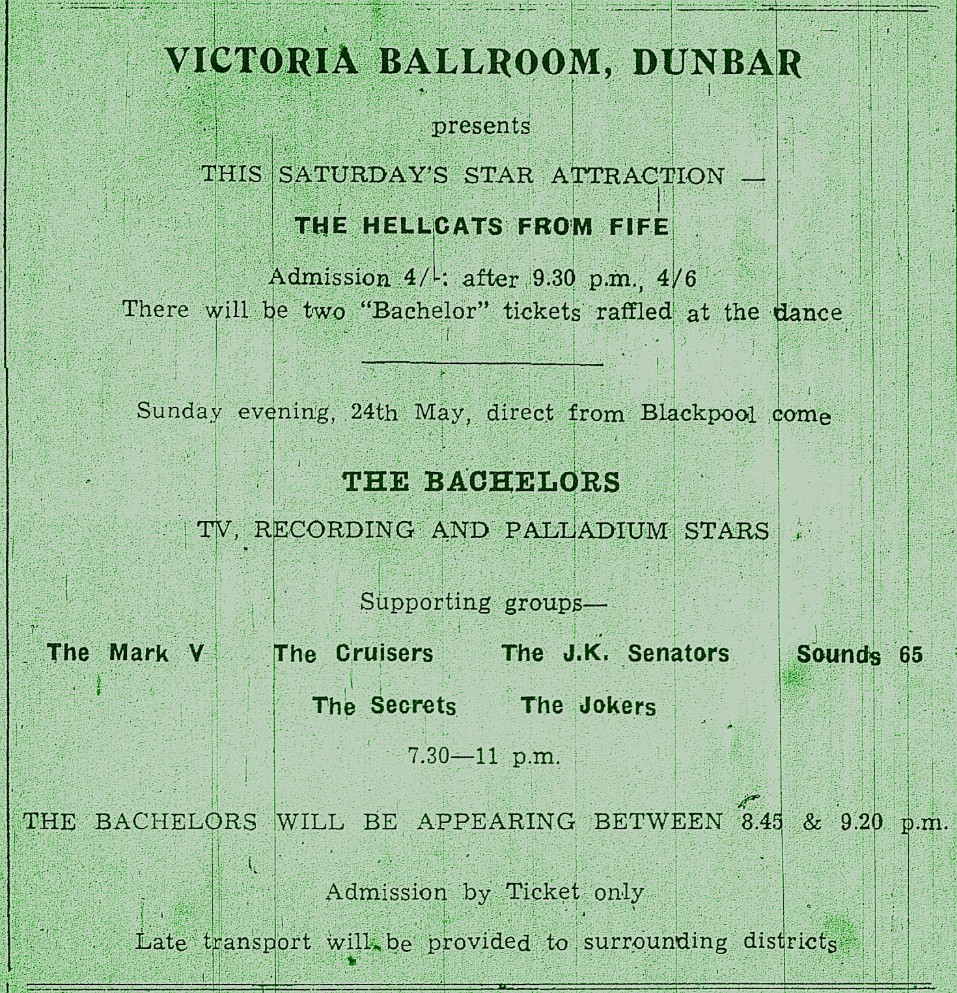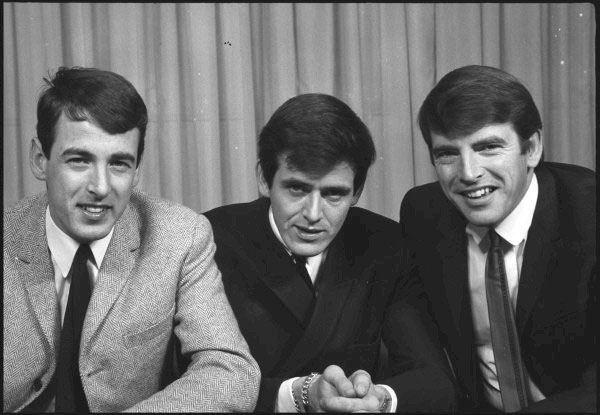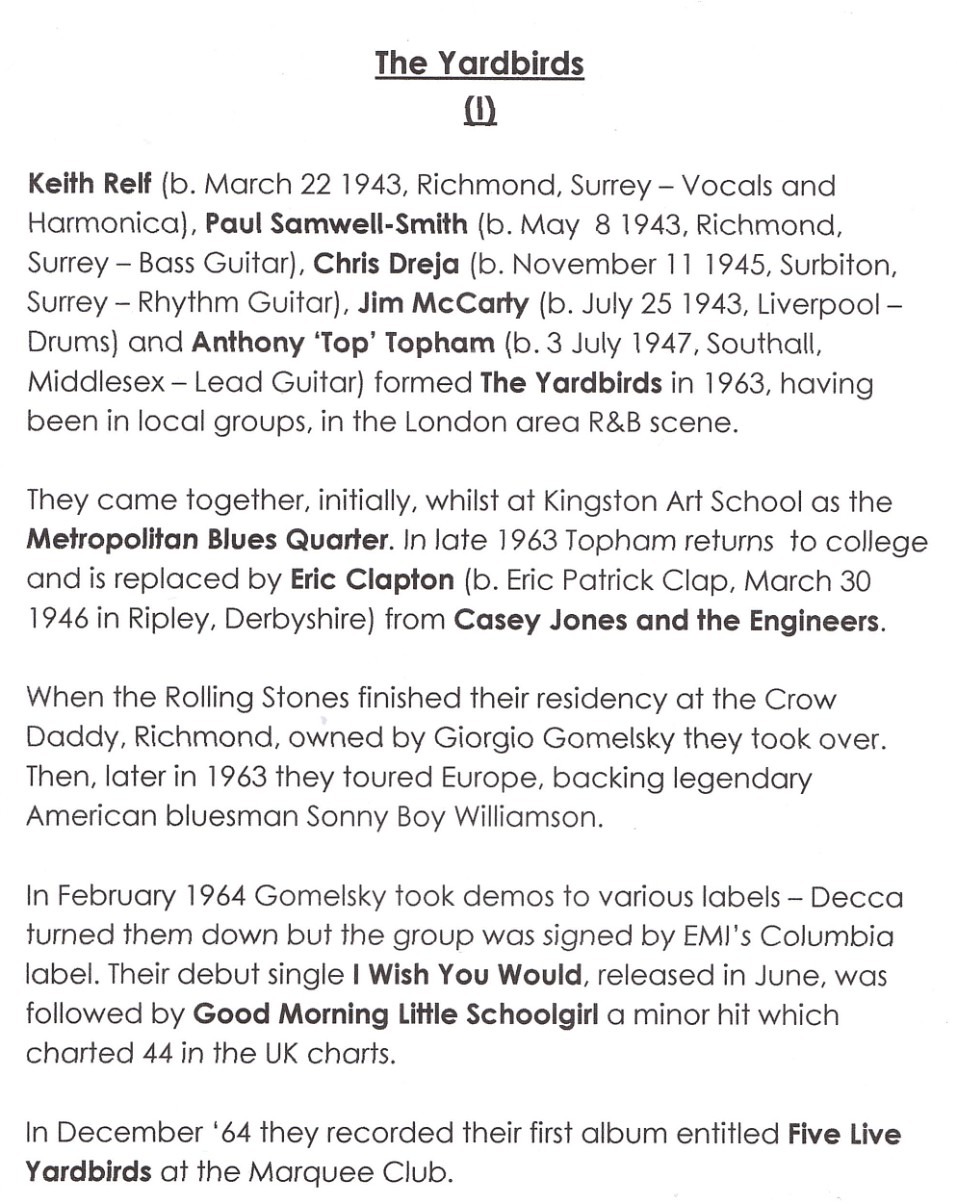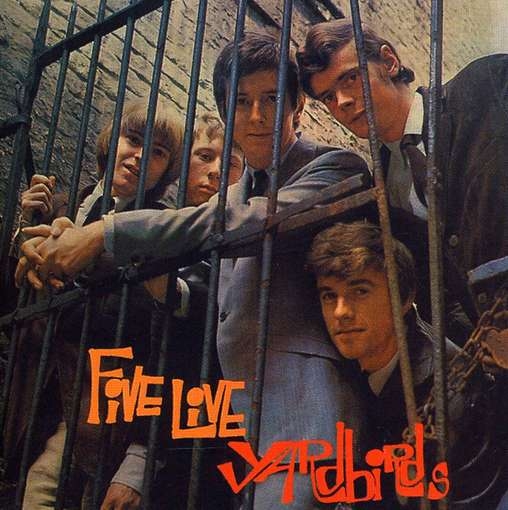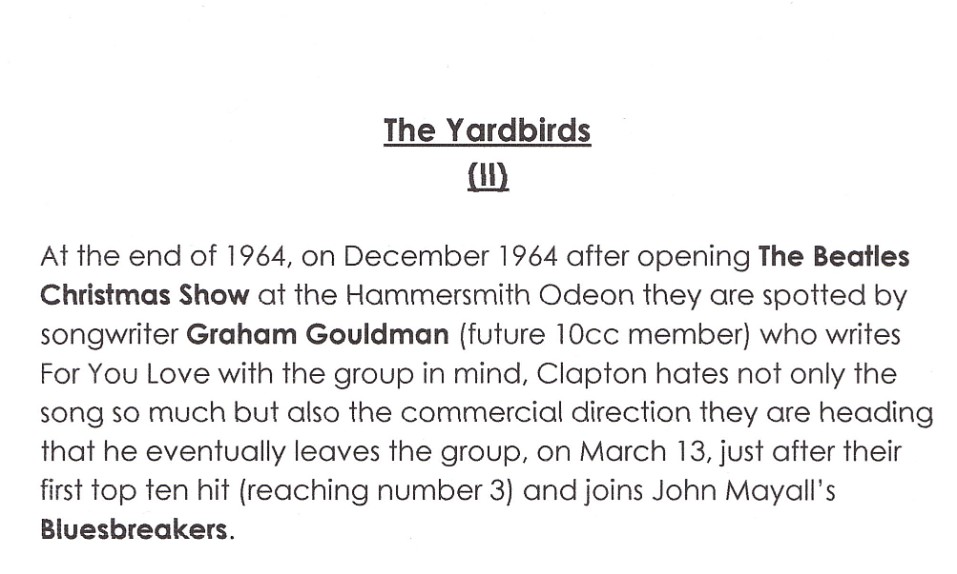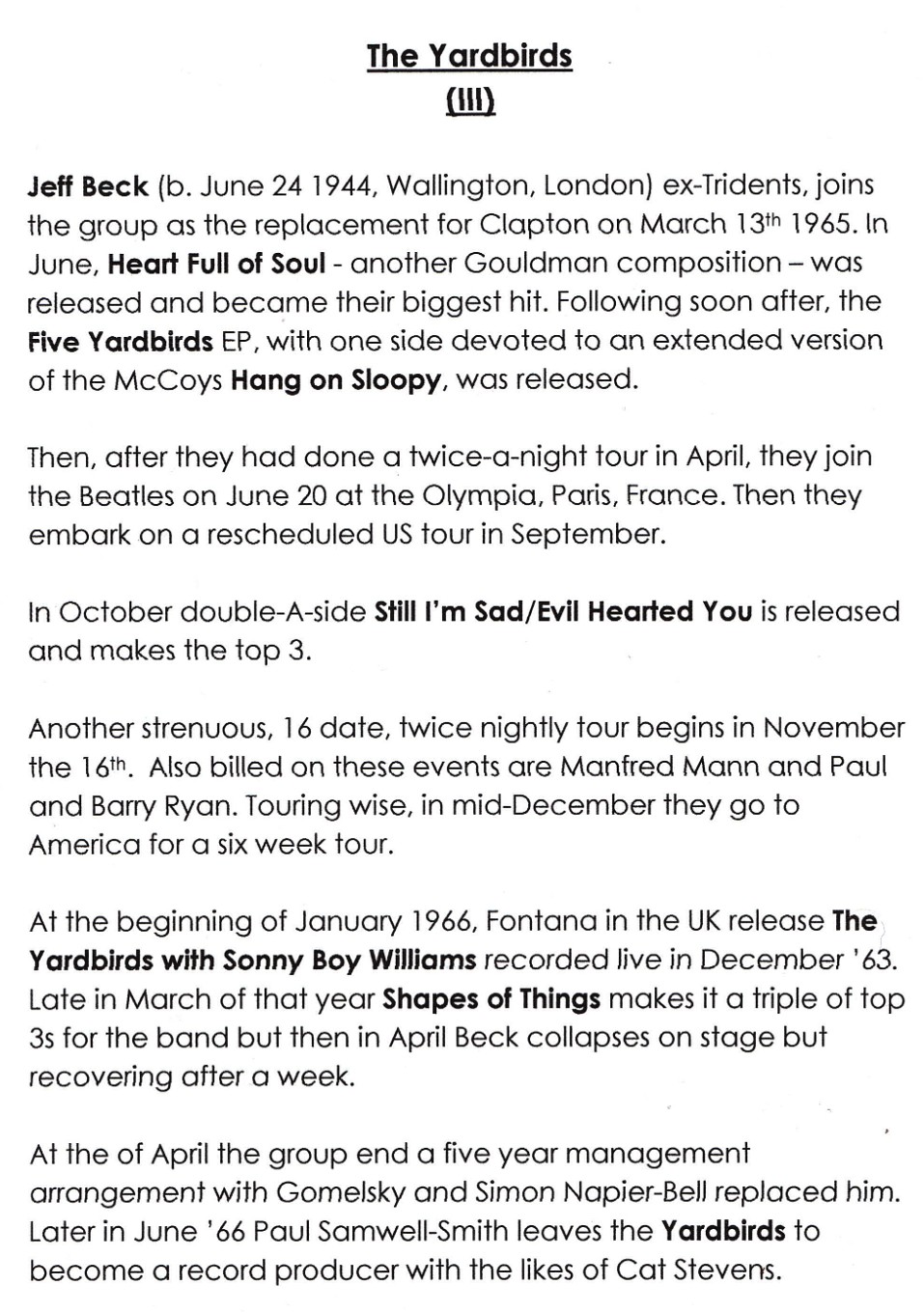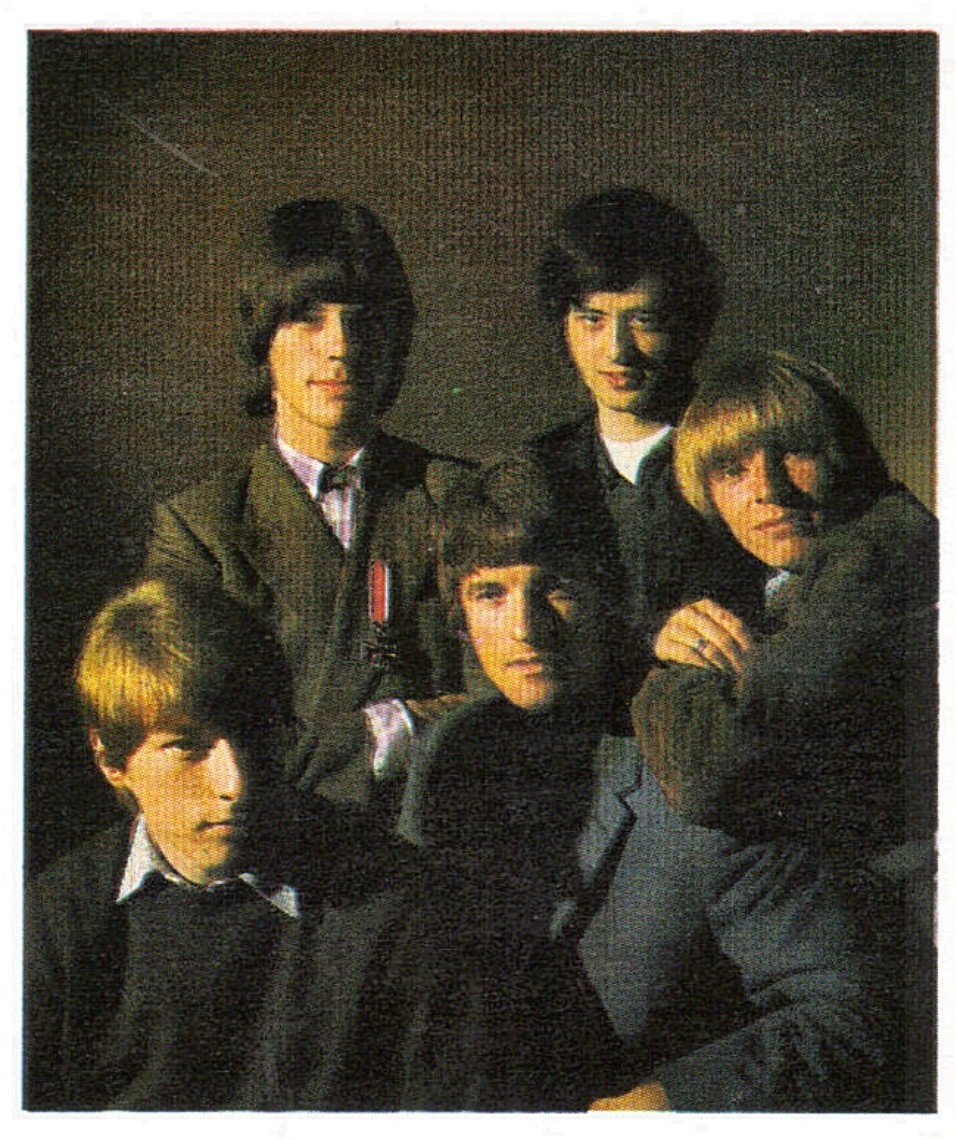 The Yardbirds
Line-up Summer of 1966
Back row : Jeff Beck and Jimmy Page
Front row : Chris Dreja, Jim McCarty and Keith Relf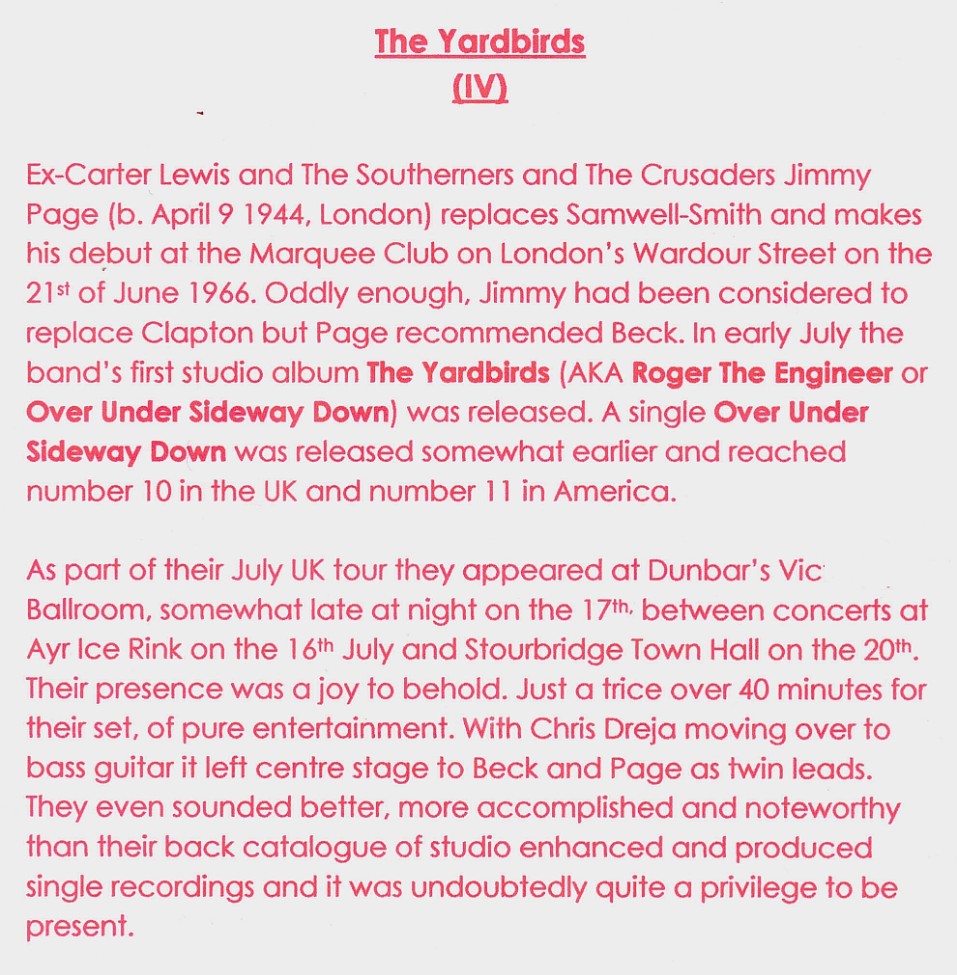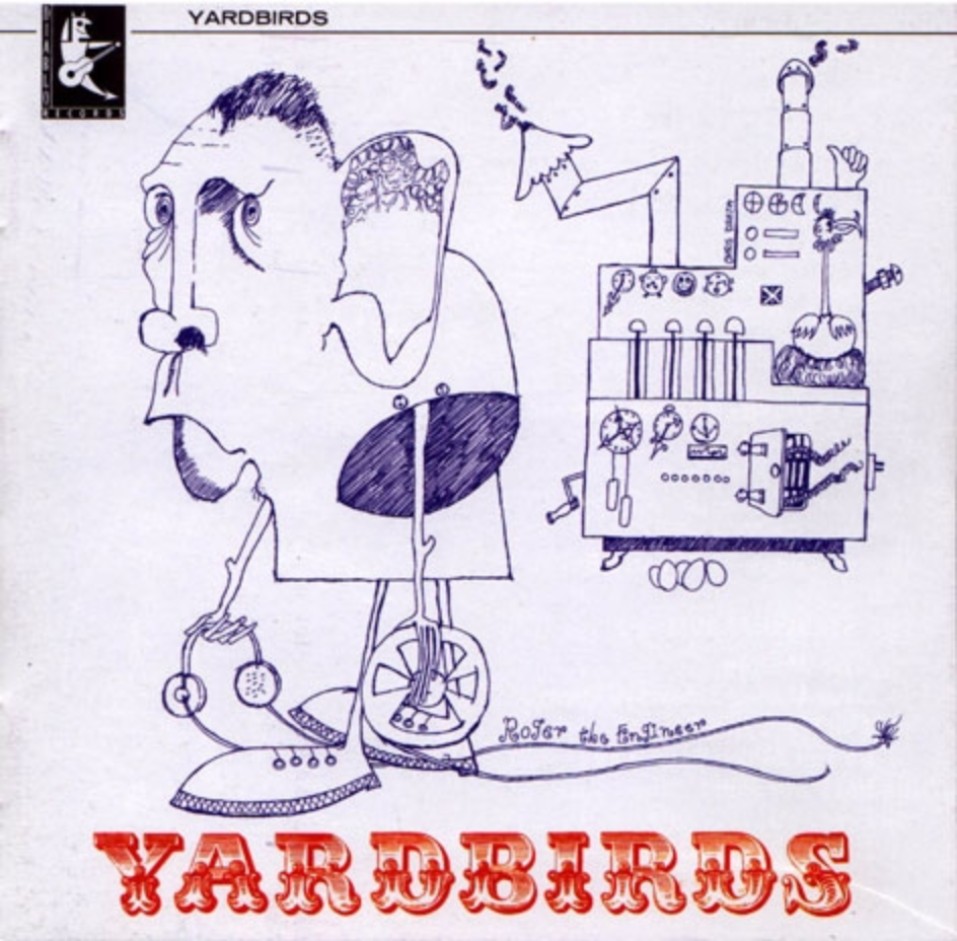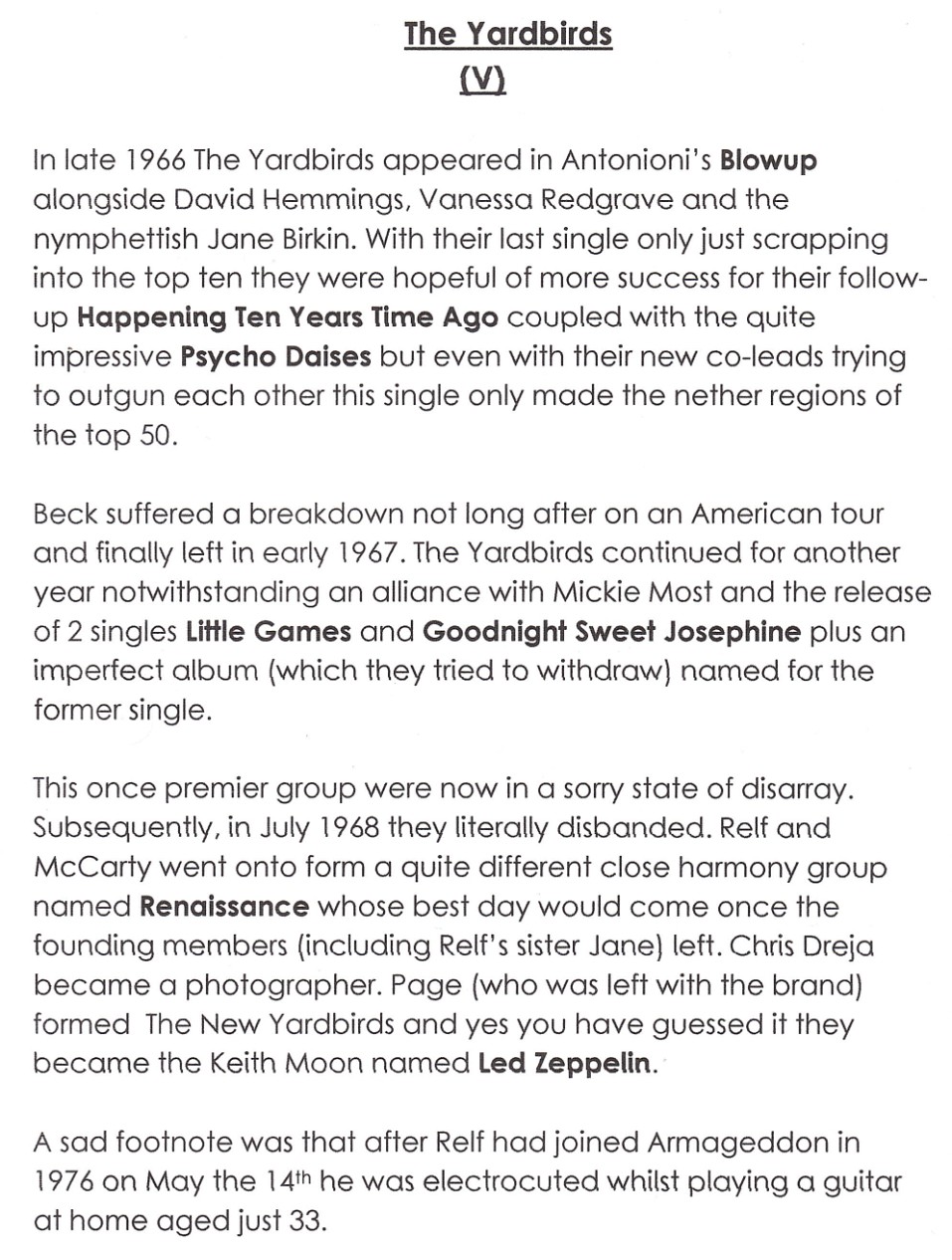 Comptrollers' Footnote
No night at the Vic would be complete without the last chance for romance and a moon dance to this subsequent track "Kelly". Even perpetual 'wall' flowers would refuse to wilt, in the sixties, and endeavour to make a telling move. Who said there was no 'B' side to Teardrops!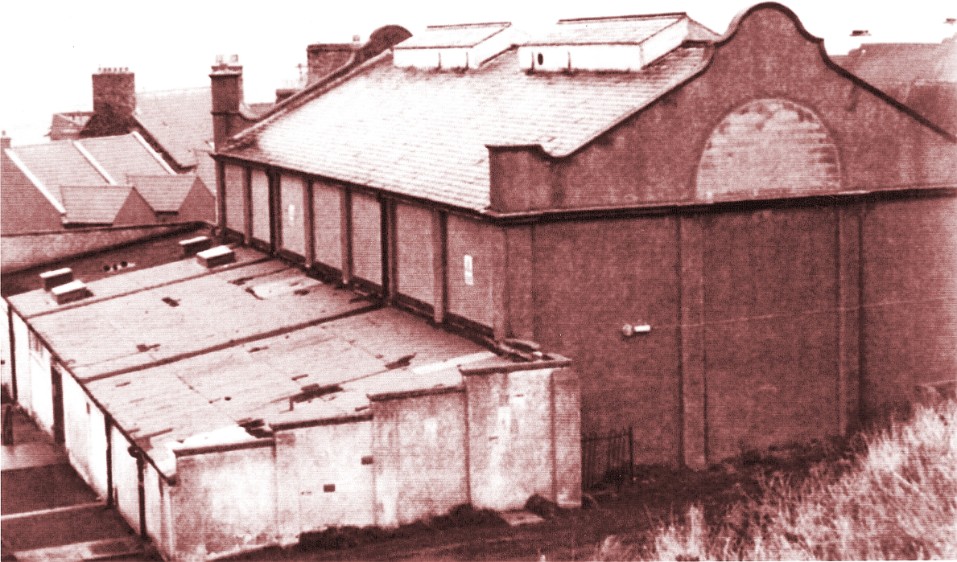 As we mentioned earlier, in this division we were going to focus on 'local groups' from Dunbar and its surrounding area who featured during the sixties. When, as and if more material comes to light the following groups will be included:-
Bobby and the Kaskades (Combe, McIntyre, Richardson and Telford),
Jason and the Argonauts (Budge, Chomiak and Pirie +),

Wild Honey (Briggs - ex-Tuxedo junction -, Christopher, Lough and Seed etc),

The Five Rebils (Cregan, Connelly, Lough and Lough +1 - they played mainly at the Corn Exchange),

Tuxedo Junction (Borthwick, Graham I, Graham S, Rutherford and Young? (not Neil)), etc
So as the Kafkaesque sixties' seafog slowly shifts two groups initially come into our vision. A brief history of them, their personnel and their 'discography' (ie the music they practiced and played) is detailed below.
Mark and the Conspirators

Howard Anderson (Vocals) b. 21/03/47, 11 Lauder Place, East Linton

Campbell Berrie (Rhythm Guitar) b.13/06/48, St. Andrews Hotel, Buckpool, Buckie, Banffshire

Rob Brown (Drums) b. 18/08/48, "The Braes", Roxburghe Park, d. 2/10/05

Kenneth Ness* (Bass Guitar) b. 10/08/47, Elsie Inglis Hospital, Edinburgh

David Pettigrew* (Vocals/Lead Guitar) b. 09/04/46, 23 Boroughdales

* Not only did David and Kenneth room together, in Innerwick, as schoolboys (in 1958) and as teenagers (1960/61) they shared a flat in London (with three others) at 32B Priory Terrace, Kilburn, NW6 during their late teens and early twenties (1966-68). After David's departure to London Campbell "Bugs" Berrie took over the running of the group.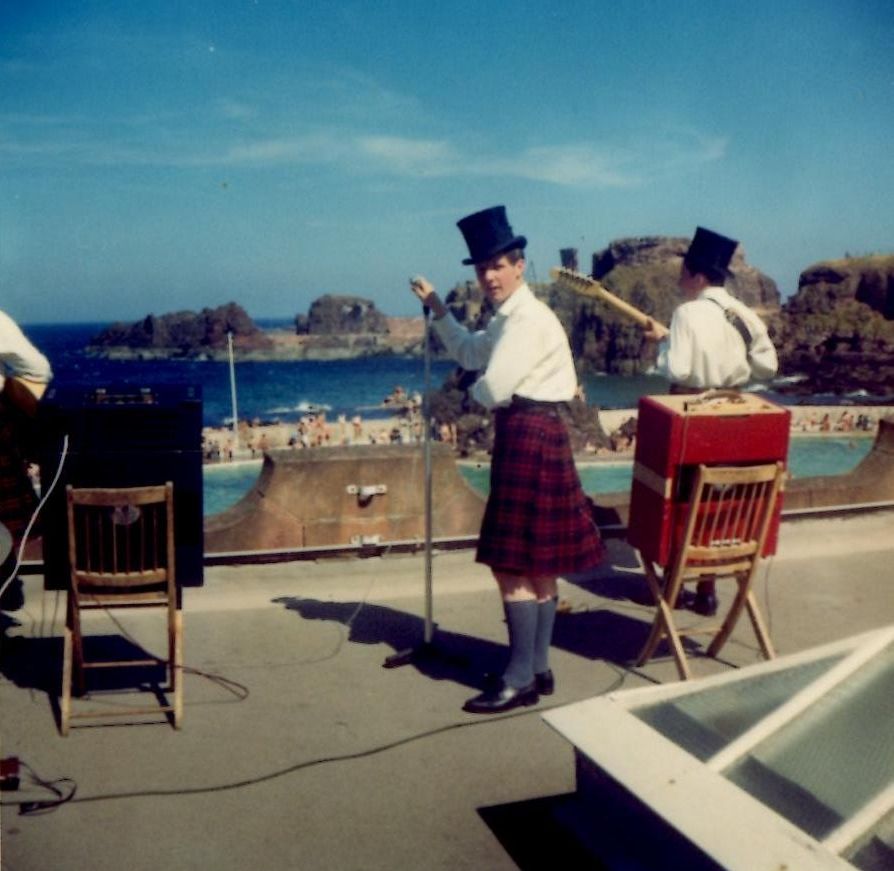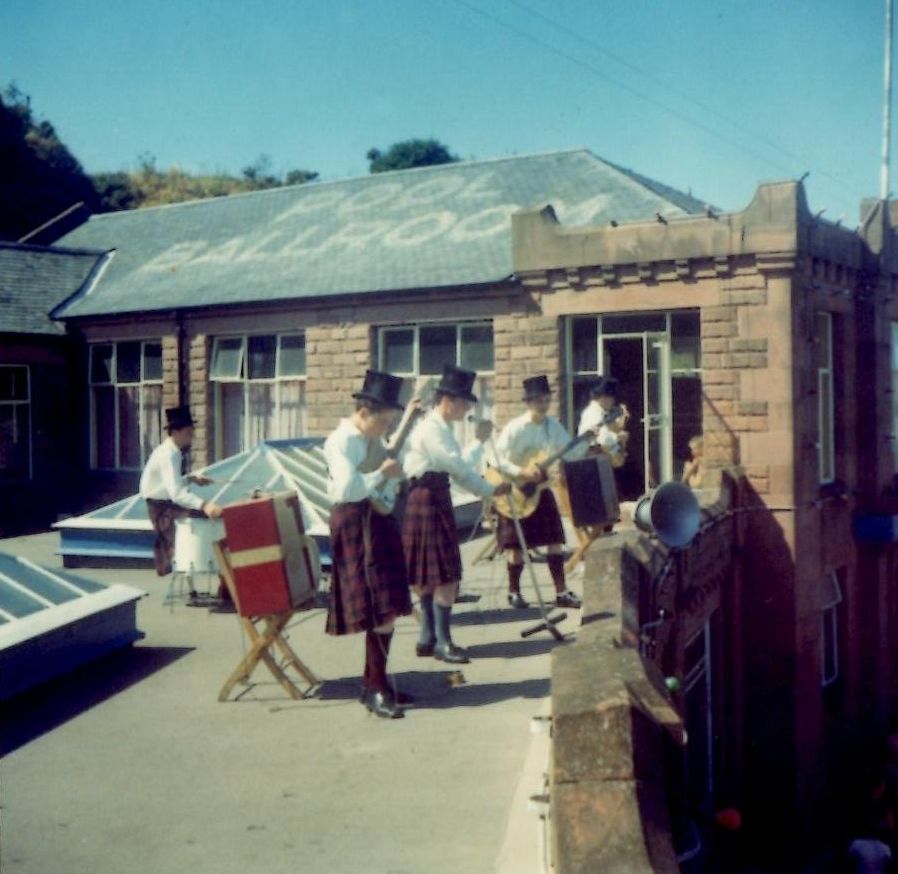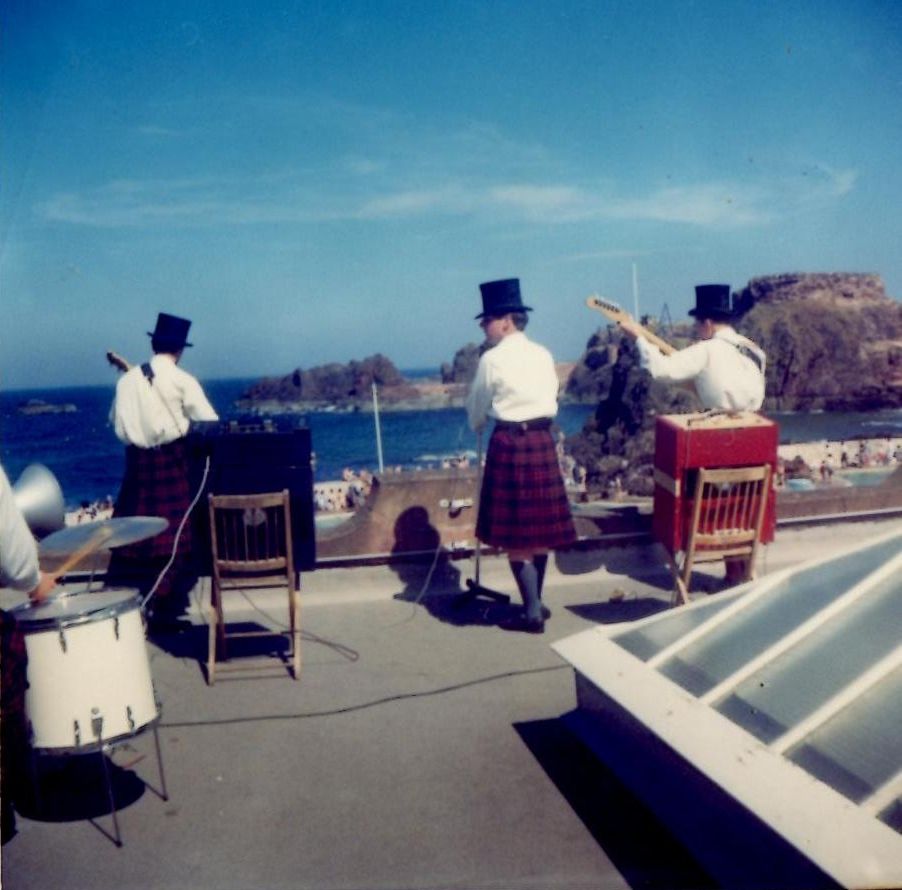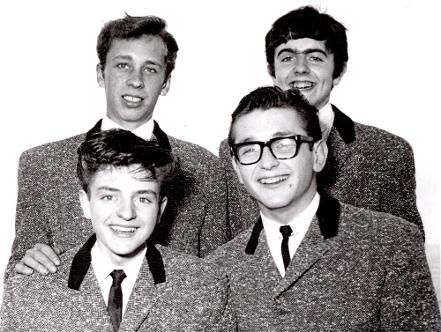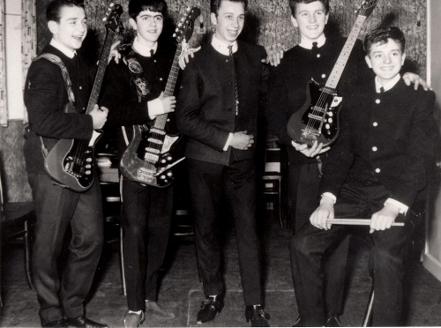 Nick and the Sinners
Please click on this link to see the separate section covering this extensive subject.
Who or Where Were We in '63?
The following two score + of singles are an eclectic selection arranged chronologically which the Breezy Burgh's Boys and Girls of the sixties heard versions of, or indeed original recordings, throughout our town either through the jukeboxes of the Palace of Pleasure (post-58), Doric (post-53) and Empire (post-63) cafes or life at the Victoria Ballroom or occasionally at "The Pool", plus occasionally at the Lido Cafe for Top of the Pops.
Additionally, we had the defeaning music to our ears of Emerson's/Evans's Shows twice a year at the Bleachfield - remember The Searchers.
We also had the dubious benefit of 242-Radio Scotland for 18 months during the mid sixties. A lot of their music was melodjan Jockinese mediocrity but they also played some good sounds.
Picture the scene at The Palace of Pleasure in '61 - jukebox with its rear to the sea, Monkey House (Chimpanzees actually) to the left, the creatures happily munching on dispensed peanuts, with Helen Shapiro, only just a teenager herself, belting out the vocals of our fourth track. The rest of us dreaming her immature (certainly not on vocals) reveries with the cacophony of whirring slot machines, dumbed down .22 guns firing and the clamorous chattering of exhilarated visitors all the way to the sands. What a backdrop!
The eternal question of the sixties was where were you on that Fateful Friday when President Kennedy was assassinated? We, in Dunbar, were going to the re-opening of the refurbished Victoria Ballroom but where were we all when the rest of the songs of the following groups were released, replayed, reprised and replicated whether live, on singles, on jukeboxes and at various music venues.
Finally, as a post-script to the jukebox music of the sixties in Dunbar, our contributor remembers at least one occasion where, in order to hear the first and only Byrds number 1 in the summer of '65, accompanied by (the soon to be 17 year old) Flash - Captain Jack's batman - of Radio Scotland fame, a £4/6d trip to an Edinburgh cafe was necessary.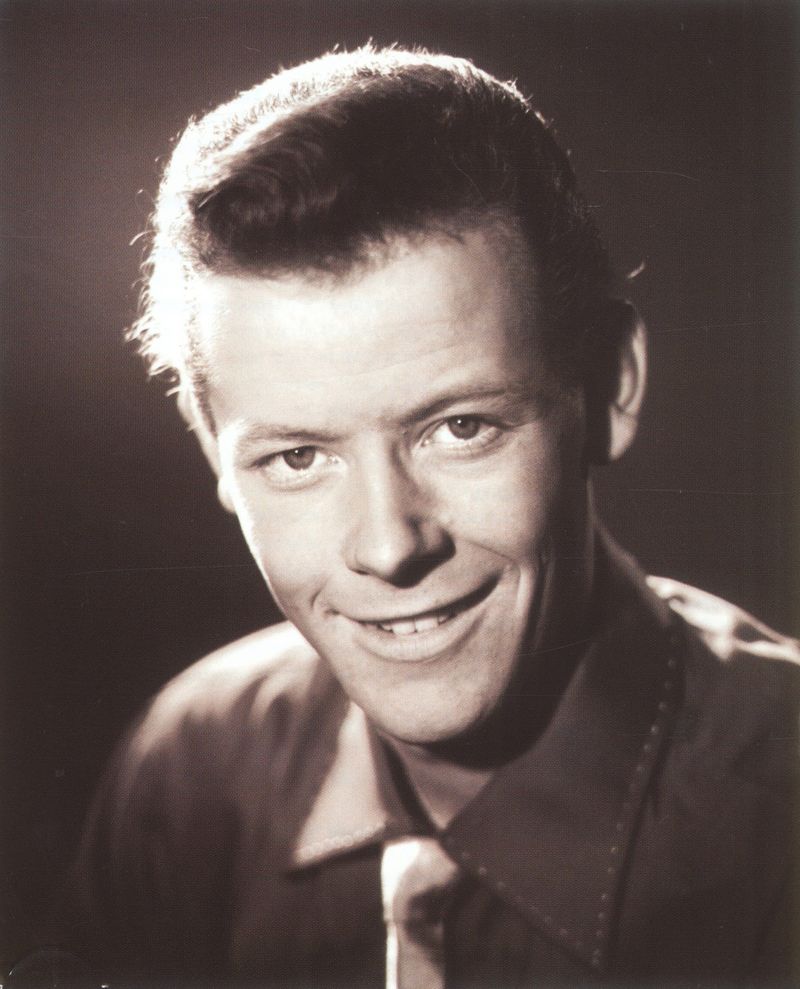 Walkin' Back to Happiness [take 2].mp3
When You Walk in the Room.mp3
Funny How Love Can Be.mp3
Don't Walk Away Renee.mp3
Let's Go to San Francisco.mp3
Smile a Little Smile for Me.mp3
Reflections of My Life.mp3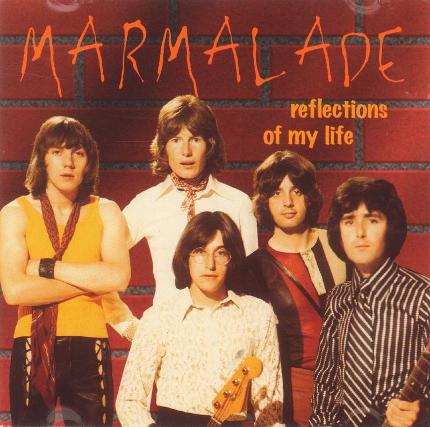 David Christopher's "Reflections of my Sixties" I
Rock and Roll began in Dunbar - or so we felt with three of the biggest rockers on the street - Full way-out dress with Redhead Sandy with the biggest bop you ever saw and a red raw jacket with tails that looked like he was going to start a party or hunt for the Hound Dawg. Add to this a blues voice that came, Dunbar accent and all, with a voice that could cut whisky whilst spitting through a Roll Up and sounding like the the deep south - height about 6ft.
His brother, Vicky, as tall and as well built cut as deep as him - Wearing clothes that you probably have to send overseas for, given their brightness. Vicky was larger than life and he knew it. His voice ran easily through Buddy Holly, Elvis and to get closer to the home in his veins, The Isley Brothers and any original black music, turned white by market forces. Vicky was always chewing gum and as close as any bother could be. Sandy in red and Vicky in black. Half brothers? Half of what? Naw, it was whole - the old rock and roll.
I stood mesermised outside the 'Palace of Pleasure' (as were they) - Bingo, fruit machines, pinballs and all, listening to Vicky and Sandy with a third member - Cregan - singing in three part harmony and one guitar. It was a sunny day and what could you say? At nine years old I'd heard it live (new jive!).
Cregan - John Cregan - dressed in black and with a deep and resonant baritone sung underneath the melody creating a grounded harmony that anyone could hear. That was my initiation into Rock and Roll. They would have been around 16-17 and me a kid of 9. By the next 3 Christmases two of my brothers and I had begun with one guitar and biscuit tins for drums. At the Church Christmas party we'd been asked to play. We had no mic and I was sent down to to Jimmy's dad's pub hoping to borrow a mic for the evening. Jimmy Bain and his friends were one step up by that time playing electric guitars, base guitars and drums. On that night they were rehearsing a Chuck Berry number in the lean-to shed behind the pub. I'd seen them all playing as 'Nick and the Sinners' with vocalist Topsy when my pal Peter had sneaked me into The Corn Exchange upstairs where we hid listening to live Shadows instrumentals and Cliff songs - for a kid of my age it was like entering Valhalla. I had also seen them playing live in the Car Park at the Barracks.
But going to the pub for the mic felt intrepid - like entering a holy ground.
Lloyd Togneri's "Reflections of my Sixties" II
My first memory of pop music was 'Rock Around the Clock' with Billy Haley and 1st to be bought for the house a 78". The first 45" was Living Doll by Cliff Richards. On going up to Senior School at Woodbush, Jimmy Bain was in the same class. He and his family had come to Dunbar, taking over the tenancy of the Forester Arms public house. Jimmy's older brother John who played piano (I think) formed a jazz band with Johnny Jannetta on drums and Norrie Laing playing Double Bass in the upstairs bar in the Foresters.
This was a time of so many groups being formed, led by The Beatles and The Rolling Stones etc and including Nick & The Sinners being born out of the pub's beer cellar. John, being a joiner to trade, made our first guitars and the original line up was Jimmy 'Topsy' Marr (vocals), Jimmy Bain (lead guitar), Jimmy Gaffney (rhythm guitar), myself on bass and Robin Johnston on drums. I always regret not having kept that first guitar... The music we played was basically covers of the current top 20 and rhythm & blues classics. Jimmy Bain had such an ear for music and could listen to a disc playing and replicate it. Unfortunately, I didn't have the same ear and learned by rote!
The band's first ever performance was the Dunbar Pigeon Club Hogmanay dance in circa 1961 and we were presented with whisky to celebrate, also our first hangover!
At the beginning we mostly played locally in Dunbar, West Barns, East Linton and Haddington. It was at the Nungate Hall in Haddington on a Sunday night we first heard a 12 year old Alan Pratt playing drums. Shortly after this Robin joined the Navy and Alan was invited to play for us. By this time we had bought proper guitars from Pete Seaton's shop in Newington, Edinburgh. This new equipment was Burns guitars and Selmer Amplifiers.
We began to spread our wings and played all through the Borders to Carlisle and South to Amble. Many of the dances were run in conjunction with the Borders heats of Butlins Bathing Beauty Contests.My wife Maureen and friend Alice often ran buses for us at the weekends. We were all, of course, in the same class at school apart from Topsy who was an apprentice joiner.
Then Jimmy Gaffney left the band and we once again upgraded our equipment at Pete Seaton's where I bought a lovely white Fender Bass again regretting not keeping it as it was my pride and joy. We were still quite successful playing all over including Fife and the American Sergeant's Mass at Kirknewton which was quite an experience as we were, to all intents and purposes, on "US soil" whenever you went through the gates. This is where I had my first proper American hamburger. I also remember, very fondly, often playing on the roof of the open air swimming pool while people bathed and danced until midnight. Great times...
After we began there were other bands that I remember starting up... The Rebel Rousers with Vic & John Lough and John Cregan. Also The Conspirators with Campbell Berrie, David Pettigrew, Rob Brown etc.
Eventually, school finished, enthusiasm waned and things moved on, but Jimmy Bain and Alan Pratt, accomplished musicians as they were, made careers in the pop industry.
It was a magical time and as a cousin of mine used to say "all you need is a cigarette, a dame and a beautiful sunny day".