Catherine Miller Mitchell
The Breezy Burgh's Poetess of Change Lane
7th June 1822 - 12th March 1893
Catherine Miller Mitchell was acknowledged as the "Dunbar Poetess", issuing, from time to time, short poems and blank verse in leaflet form. These numbered about sixty in total and were complemented by a book of poetry of some ninety pages entitled "Seaweeds". Many of these are appended below. She was particularly fond of writing acrostics and a number of her pieces were in this form. She was renowned for dedicating a few lines to the memory of any citizen in the burgh, upon their death. Catherine was of a quiet and unassuming nature and was respected by all who knew her. She was the last of a very old Dunbar family who, all their days, resided in an old-fashioned house at 6 Change Lane (later re-named Shore Street). She continued writing her poetry right up until her demise, publishing "Lochend" and "Safe" shortly beforehand. The French authoress Fabienne Moine mentions Catherine in her 2016 book "Women Poets in the Victorian Era: Cultural Practices and Nature Poetry", analysing and critiquing her poem "Greyfriar's Bobby" (1873), alongside such luminaries as Elizabeth Barrett Browning.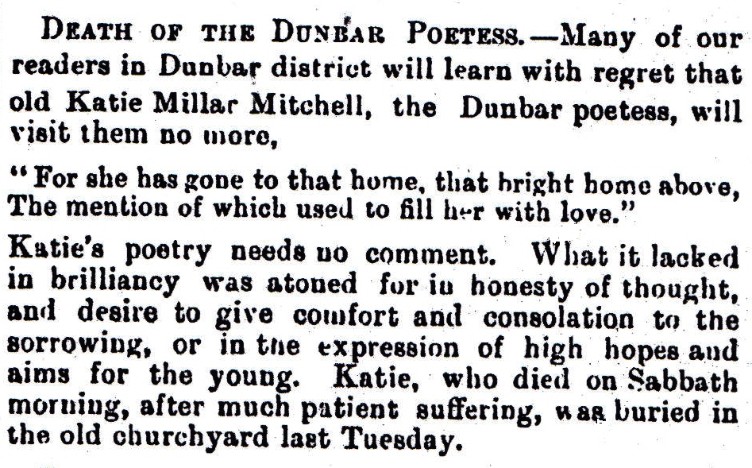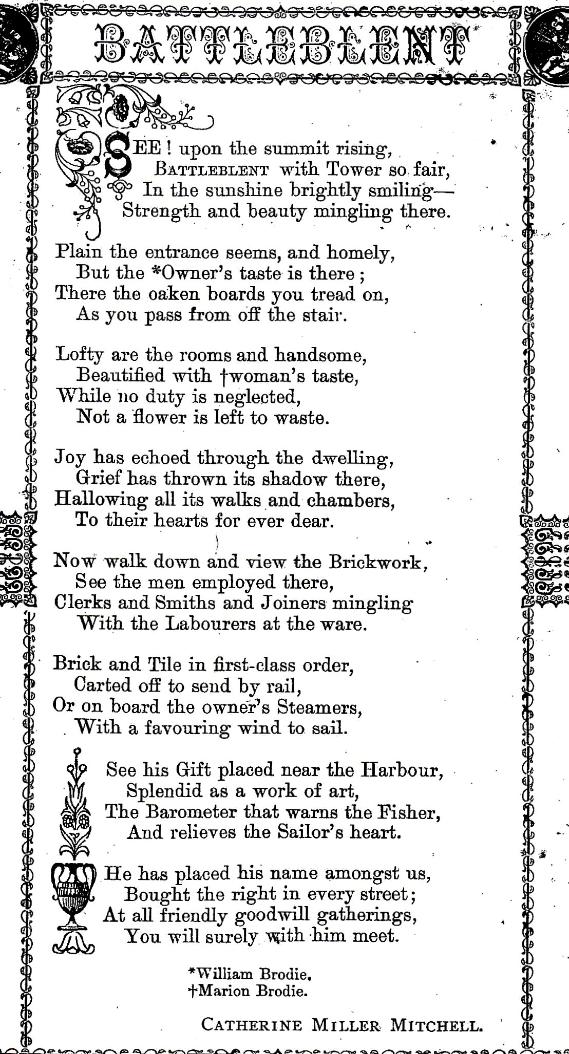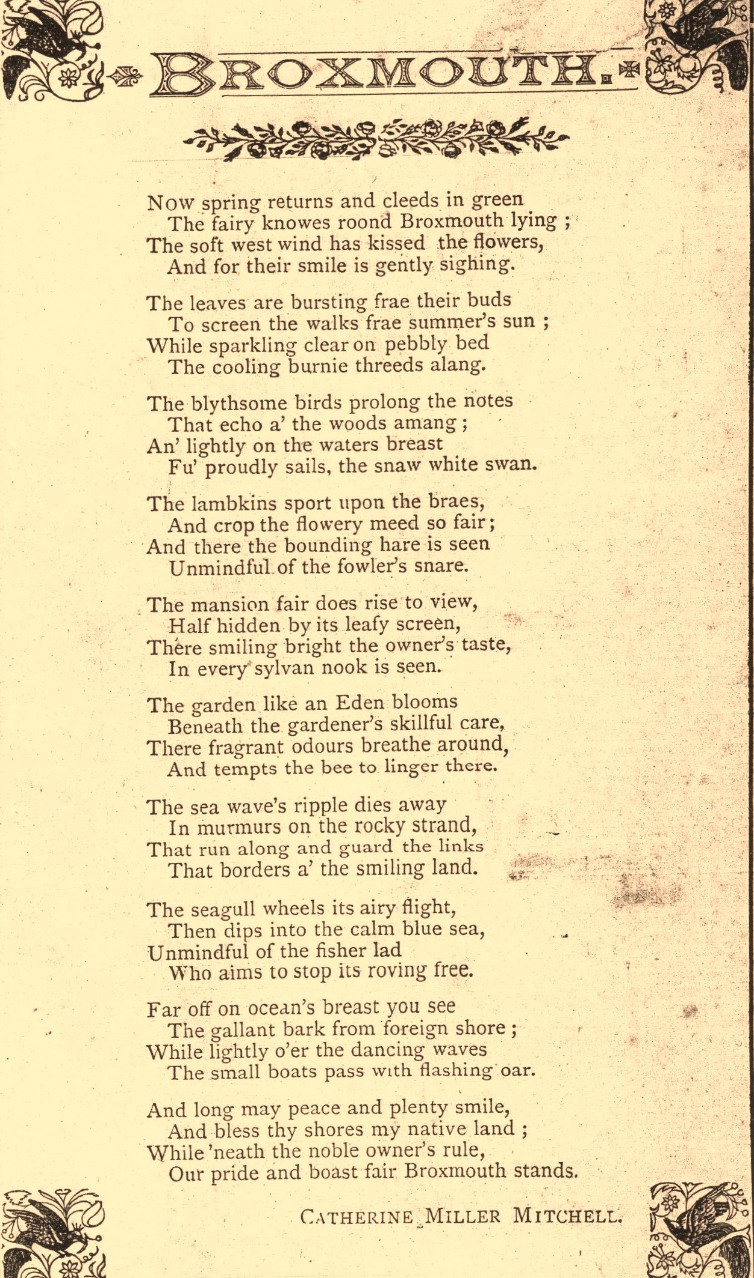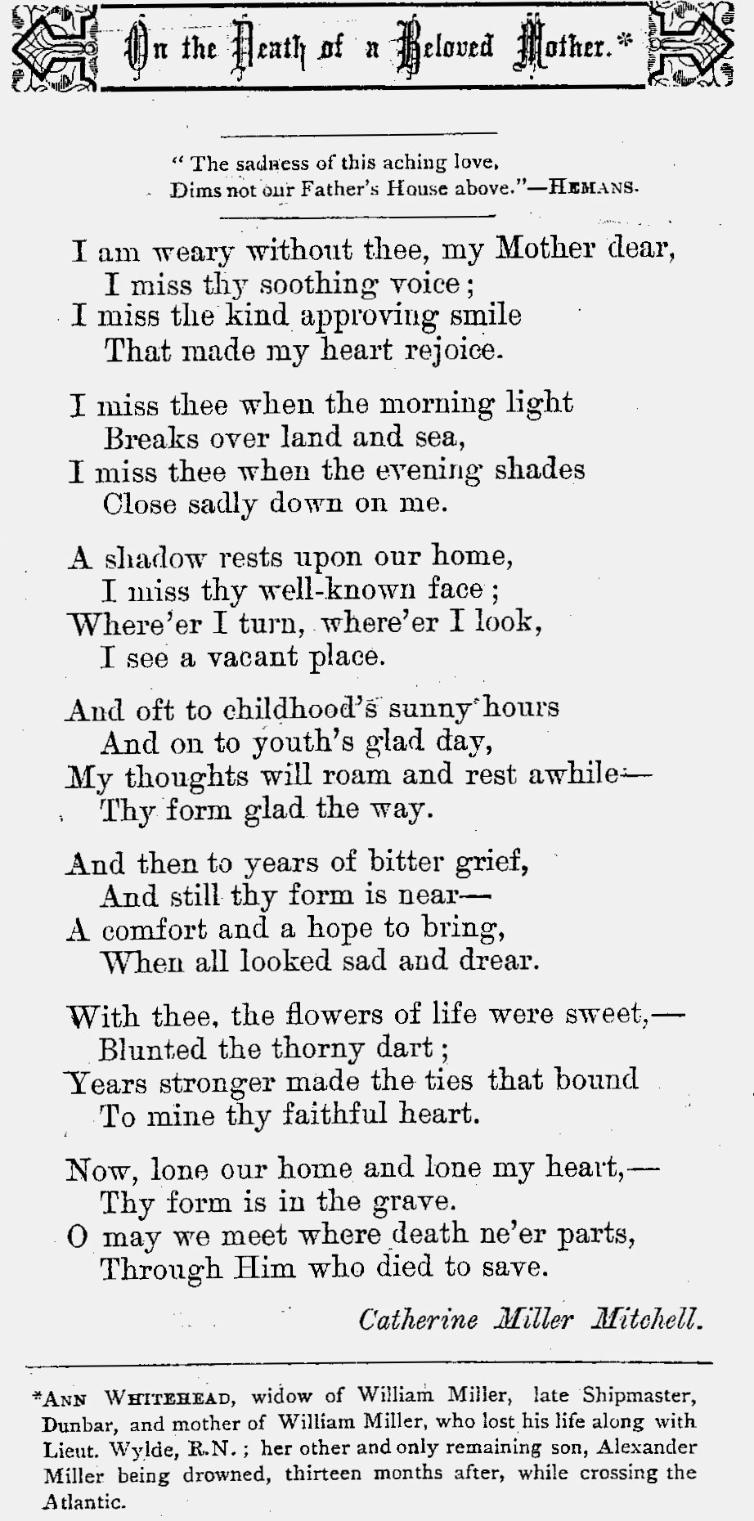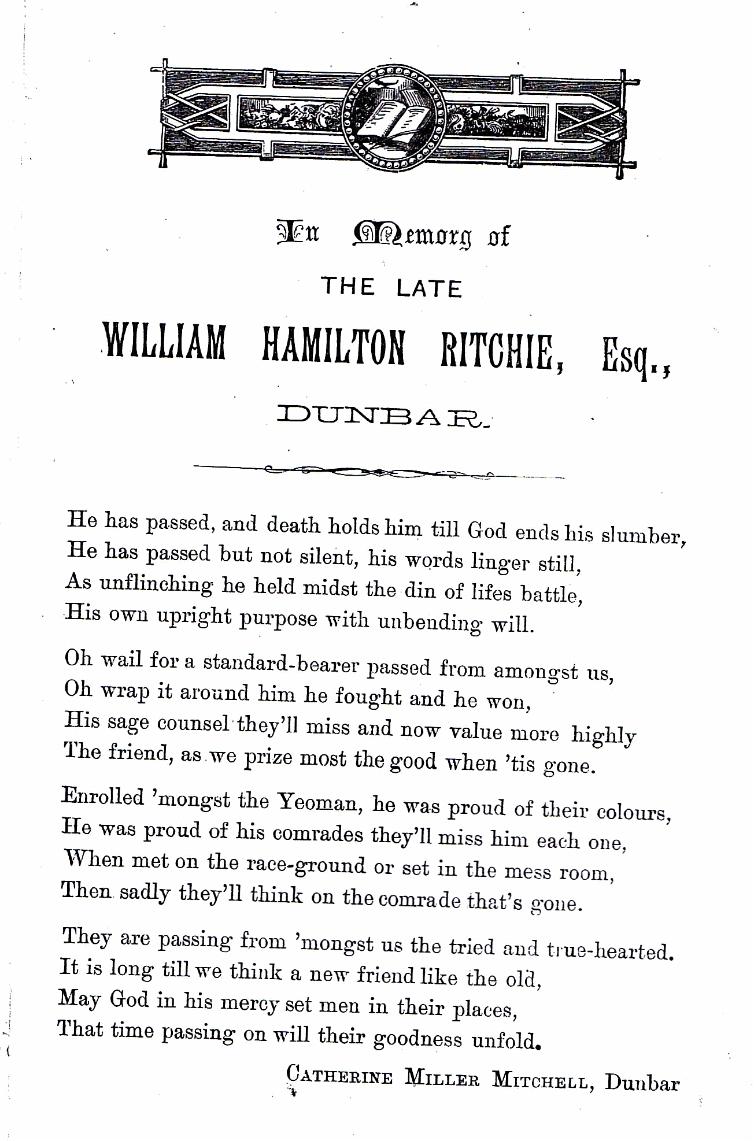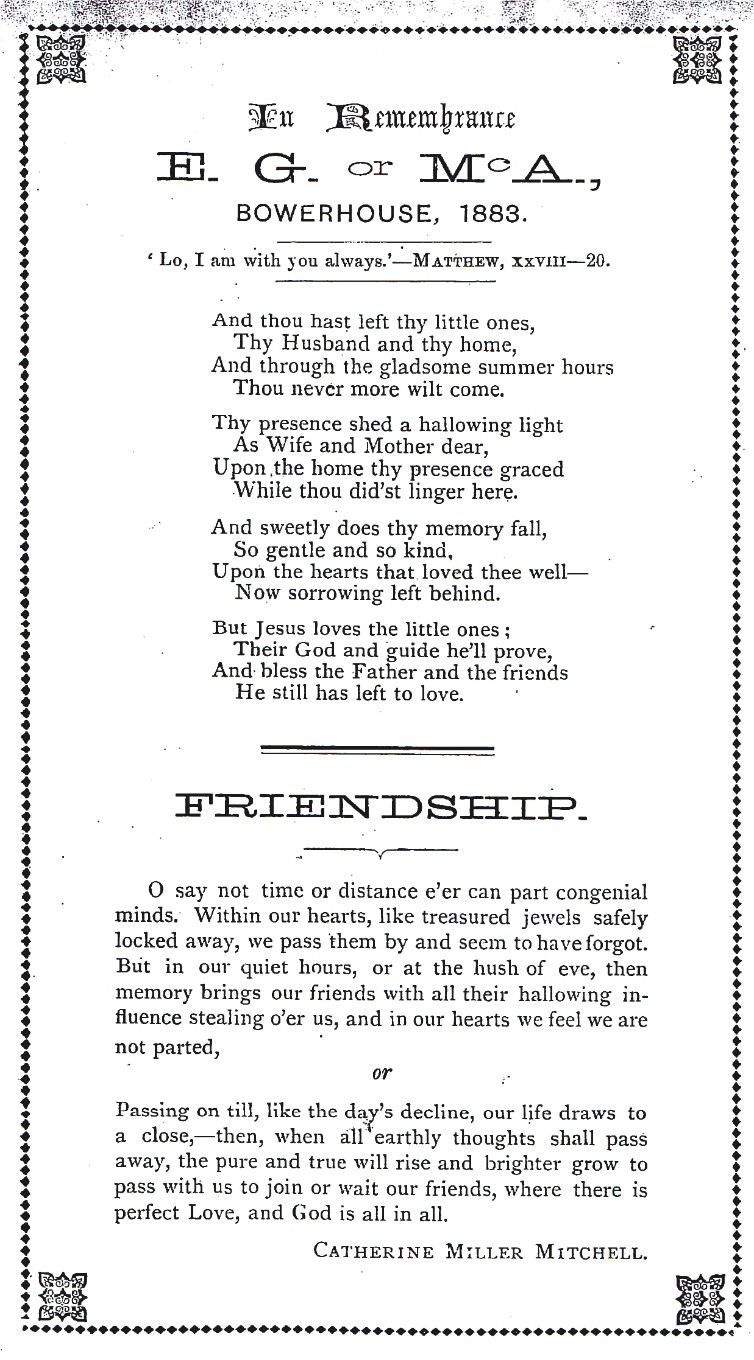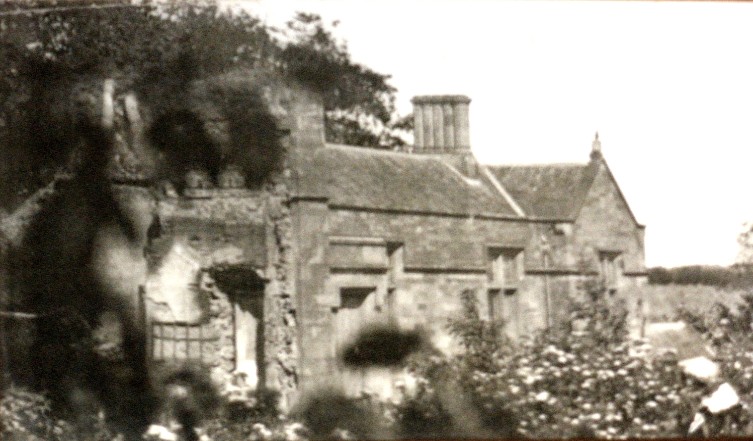 Lochend Mansion House Jack McKenzie (1899)
This photograph and the one following the poem are of the same structure - Lochend Mansion House One wing (west) remained after the great fire of 1859 and this is it. This copy is taken from Lochend Gardens & the successor from near the base of the prominence near the new roadway to the quite aptly named Baillie Court. All that remains today of what was the billiard room of the edifice built by Smith in 1684 for Sir John Sinclair & recast by William Burn in the late 1820s, is an ivy covered lone ruin on the side of Kellie Road. This former wing of Lochend House was utilised over a number of years in late Victorian times as a house of worship for farm workers and locals alike and there is oral & photographic evidence of ladies & gentlemen, in their Sunday best, using this "chapel."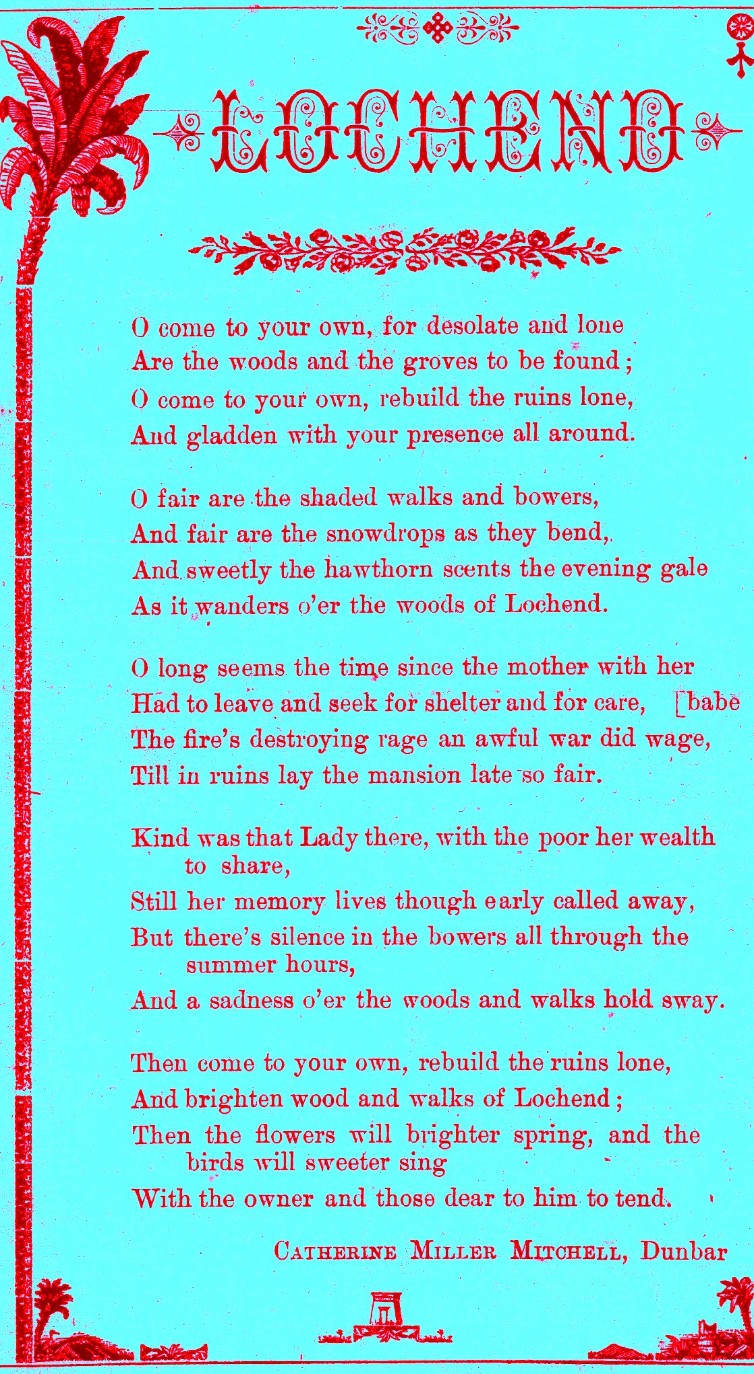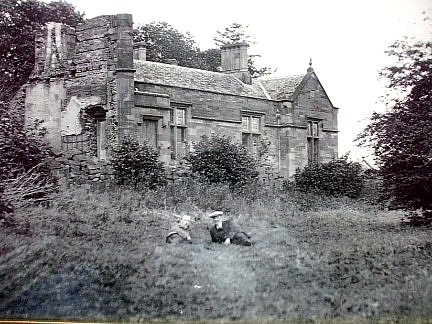 Lochend House Photo by Thos. Taylor Bisset c1905, courtesy R Bisset)
The remains of Lochend House after the fire of 1859. The two gentlemen are a friend, on the left, and a brother, on the right, of postman-cum-photographer T.T. Bisset. There is a story involving these two men that they entered the building and found a rocking-horse and had a go on it. More importantly they found a half-a-crown piece. Their joy, however, was short-lived as soon after they were charged with malicious mischief - and guess what they were fined?
Incidentally inscribed on the back of the original photograph by T.T. Bisset is "The Burnt Hoose". Also it would appear that the last vestiges, now remaining, of the ruin are the central portion of the west wing.

Historical Note
Behind the structure, piercing the boundary wall (rear left), was Smith's 1684 renaissance gateway in the style of Andreo Palladio. It was removed, under the guise of preservation/restoration, and installed at Leithen Lodge, near Innerleithen, in 1992. The Baillie Sundial, inscribed by the family motto in Latin, has been 'missing' for over 30 years and one has to wonder where it is?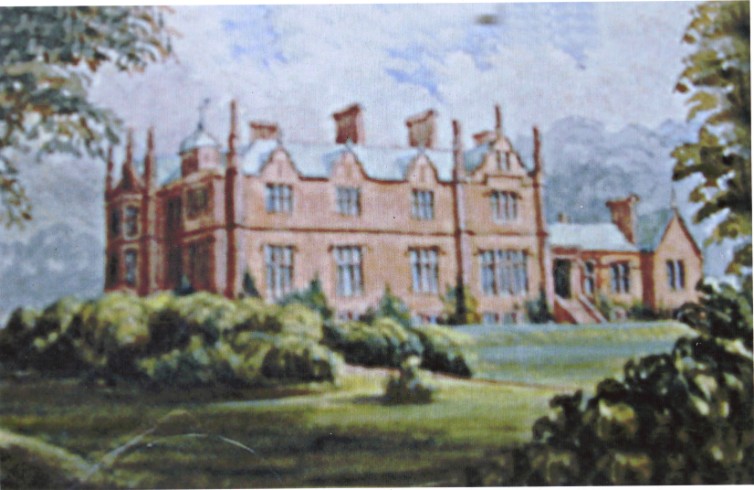 Painted by Julia Jane Jemima Maitland Warrender (1871)
On the reverse is a painting of Bruntsfield house. The obverse was done from memory and the artwork forms the basis for a perpetual calendar.