Daly's Corner Quiz
Original & Best
13th September 2022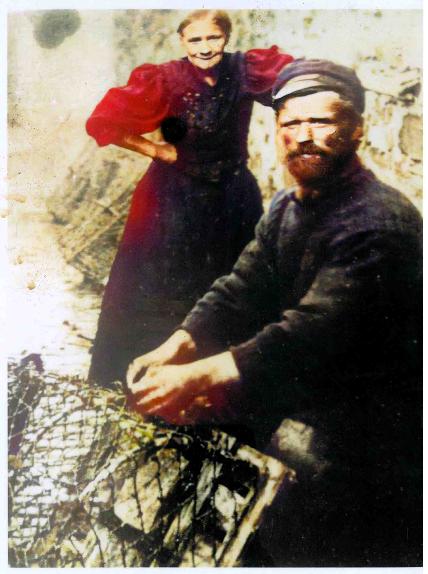 "True Blue" Annie Johnstone and "Brown" William Johnstone
A. What was atop the lady above's mantle shelf at her Colvin Street hame?
B. Which family brought the above "True Blue" Annie Johnstone, nee Gilroy, up?
C. Who was True Blue and Brown's eldest son (of 3)?
D. When did the Golan/Gullane/Gullen family uproot themselves from North Berwick and move here?
E. Where did Shaw, Traiveller and Shie - all Thomson brothers and successive children - bide?
Daly's Corner Quiz
Original & Best
13th August 2022
A. What is the name of the rare plant fossil, of Carboniferous era, found near here?
a) Lepidodendron Veltheimianum, a fossil tree, was unearthed on Dunbar's Rabbit Warren.
B. What is the connection between the song above and our Dunbar of the 60s?
a) The "Town" involved is Dublin the no mean city of Lynott's* childhood where his "bronze" is located and his mother was born. This song was co-composed in 1982 by Lynott and Dunbar's own Jimmy Bain who spent his teens here in the '60s, at the foot of Silver Street, so the lyrics probably hold some redolence to/of the Breezy Burgh, which one might sense. Oddly enough they were both instrumental in having children adopted.
*Taking his mother's surname, he was actually born at Hallam Hospital, West Bromwich, however, they moved to Dublin where he spent quite a deal of his life. His statue is outside his favourite watering-hole in the Irish capital.
C. Where did the Dunbar line of the Runciman family stem from?
a) Not, surprisingly, from Earlston as some genealogists have suggested but from Crail. Nevertheless, oor Custom House Square-born and Skateraw's ain coxswain, Walter Runciman Fairbairn, was actually born plain Walter and his middle name was something of an affectation from his distaff side to differentiate between the large numbers of Fairbairns here in Dunbar, Cove and elsewhere. His mum was possibly a 4th cousin twice removed of Rock Hoose born Walter Runciman who became quite famous in maritime circles and worldwide. Walter's parents stayed on Patterson Terrace on one of the two tenements before flitting down to The Shore to what became "The Heart of Dunbar" - Custom House Square.
D. Which Dunbar hostelries were owned/managed by the Black family pre-to-post Victoriana?
a) Black's Railway Tavern on Church Street; St George Hotel*, High St.; The Grey/White Horse, Old PO Close; Castle/Commercial Inn, High St./Seaport and White Swan, Shore by Mary Adamson, nee Black. *Co-managed by Catherine Clapperton Anderson, nee Black, who also sometime ran "The Railway"
E. Who was the 1st Captain of Dunbar Rugby Football Club's 1st XV?
a) In those dark and distant days of the 1920s, when games were played at Slaughterhouse Field and Drysdale's Paddock, J B Lees was the club's 1st Captain for 1923 and J M Henderson followed a year later.
Daly's Corner Quiz
Original & Best
13th July 2022
A. What was the name of the vessel stranded and indeed wrecked at Lunciwick on 1st November 1905?
a) The Cydum, a 100-ton schooner, was on a voyage from Southampton to Dysart, loaded with ballast, when she ran aground on the Lunciwick, near Dunbar at Thorntonloch, N55o 57.750" W002o 23.000", as did the Youn/Ydan a Danish Sailing Ship coincidentally!
B. When were the following two "modernising" developments effected/enacted?
i) Custom House Square?
a) From '76 through '78
ii) The Foresters Arms, which was 2 Colvin Street?
a) From 2003 through to 2004 it became "The Shore"
C. Where are i) Devil's Ark rock?
ii) Skethard?
a) Both are closely located to each other and propinquous to Torness. Devil's Ark rock is one of several places thought to be the "resting place" of the ship "HMS Nymphe" which foundered on 18/12/1810. The Devil's Ark location is not exactly known but may be a skelly of rocks which "guard" the sandy landing reach by Skateraw, possible co-ordinates are:- N 55° 58.590" W 002° 24.162". HMS Nymphe's sister ship HMS Pallas foundered on the same night on Dunbar's Mid-Links Sicar, off the Vowt, and her anchor, seamen would venture to suggest, is visible in the Vowt Harbour.
D. Which, not so dry now, stream is nearest to the three pigs?
a) The Dryburn - oor pairish's limit - disgorges near the slightly more North-westerly of the trio's dubs.
E. Who bought the tenement from "The Wesleyans", on which the Castle ex-Commercial Inn is?
a) Maitland, the then Earl of Lauderdale, in circa 1800.
Daly's Corner Quiz
Original & Best
13th June 2022
A. What number of coins were found on our streets paved with silver?
a) A hoard of 290 silver coins, from the period 1558 - 1603, were discovered during September 1773 when laying out a street which was subsequently and appropriately named Silver Street. [Grid reference NT679789]
B. Where was the Officer Cadet Club?
a) Also known as the Cosmo, it was located in the basement of the Beach House Hotel and one went down the steps to right of the now demolished Heatherly House and through the door on the right-hand side, at the bottom.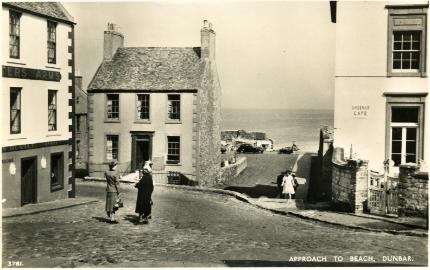 C. Which street was Heatherly House built on?
a) At the foot of Silver Street and the same address described "The Beach House" as well as the tenement which became "The Foresters Arms".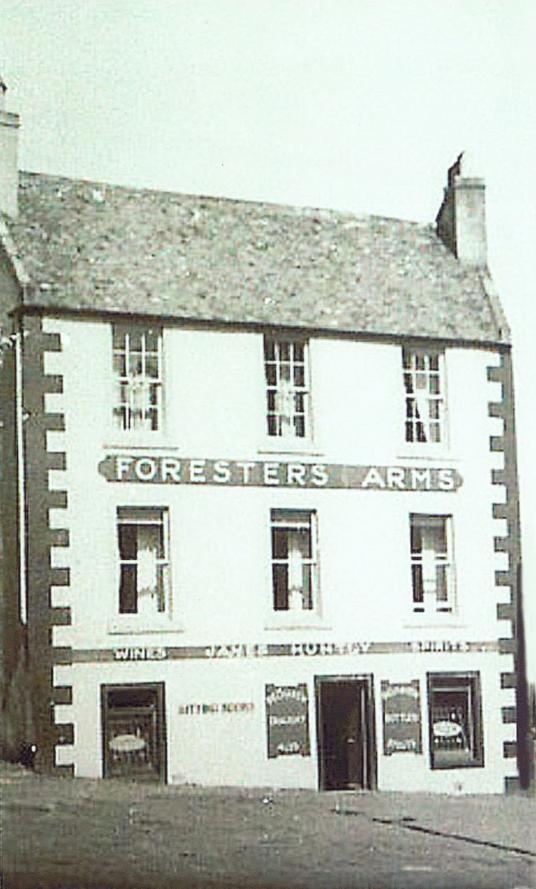 D. Who were the first owners of the above hostelry, formerly Belhaven Brewery-owned?
a) Elaine Mary and R Collin Knox in 1977 and they succeeded tenants J&D Taylor.
E. Whose soubriquet was Three Lums?
a) Jock Bowie, oor mid-20th Century Castle Street "Turf Accountant".
Daly's Corner Quiz
Original & Best
13th May 2022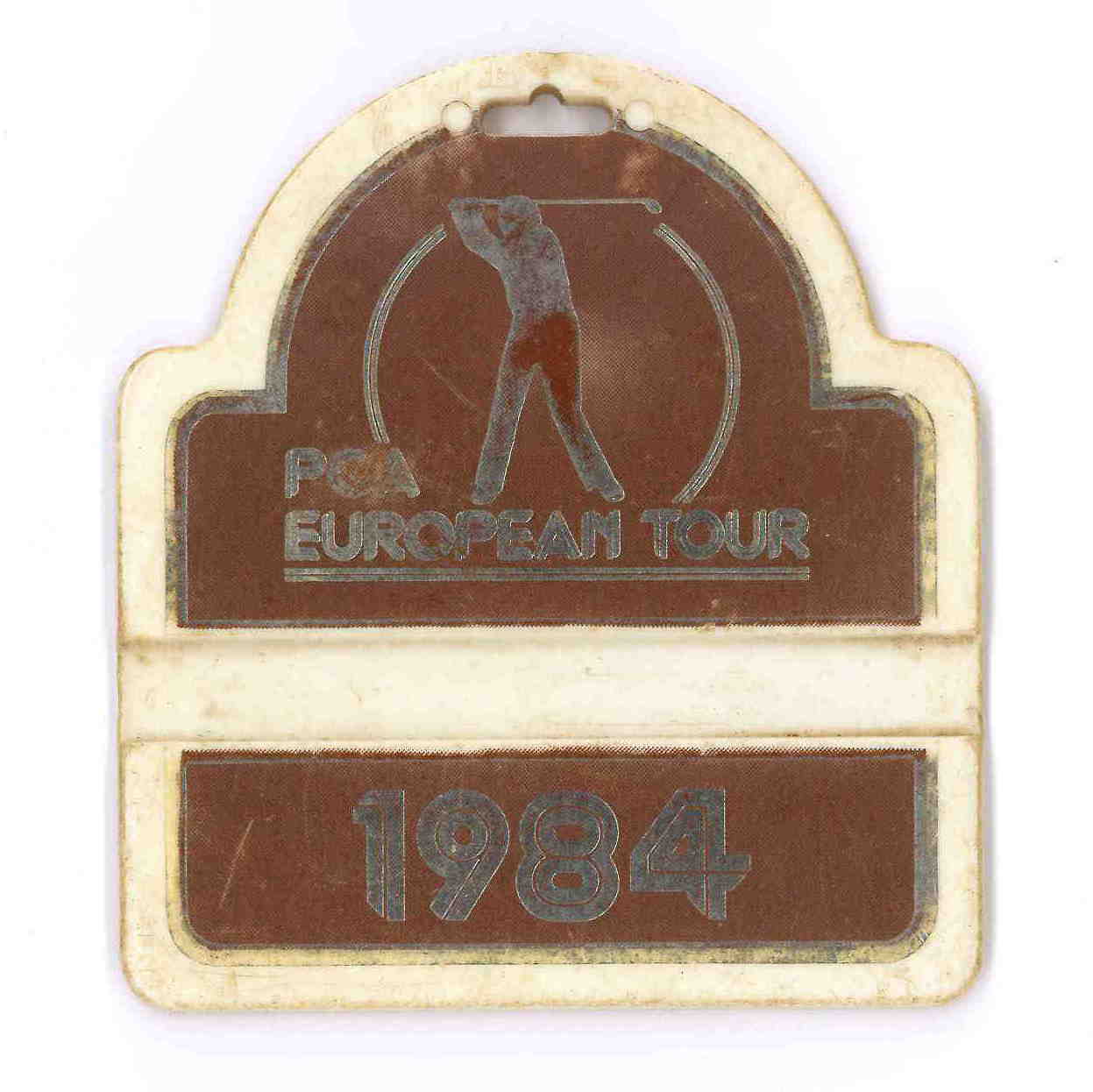 A. What is the significance of the PGA European Tour badge above?
a) It was David Robertson's who was banned for many years in 1985.
B. When did the Huntly's sailship, "The Golightly", with a crew of thirteen, go down on its way to the mussel beds at Tyne Water to get bait?
a) 12th of July 1886, off the North Pierhead.
C. Which members of the Huntly family perished in the disaster above?
a) Andrew born 20/5/1858, his wife Catherine Smith born 18/5/1859 and his brothers Alexander born 23/6/1864 and James born 21/6/1869. Their parents were David and Isabella Huntly (nee Clements). Also, the brothers' cousin Agnes Dalgleish Huntly born 30/5/1870, her parents were Andrew Huntly and Sarah Dalrymple. Four others also drowned and four were saved.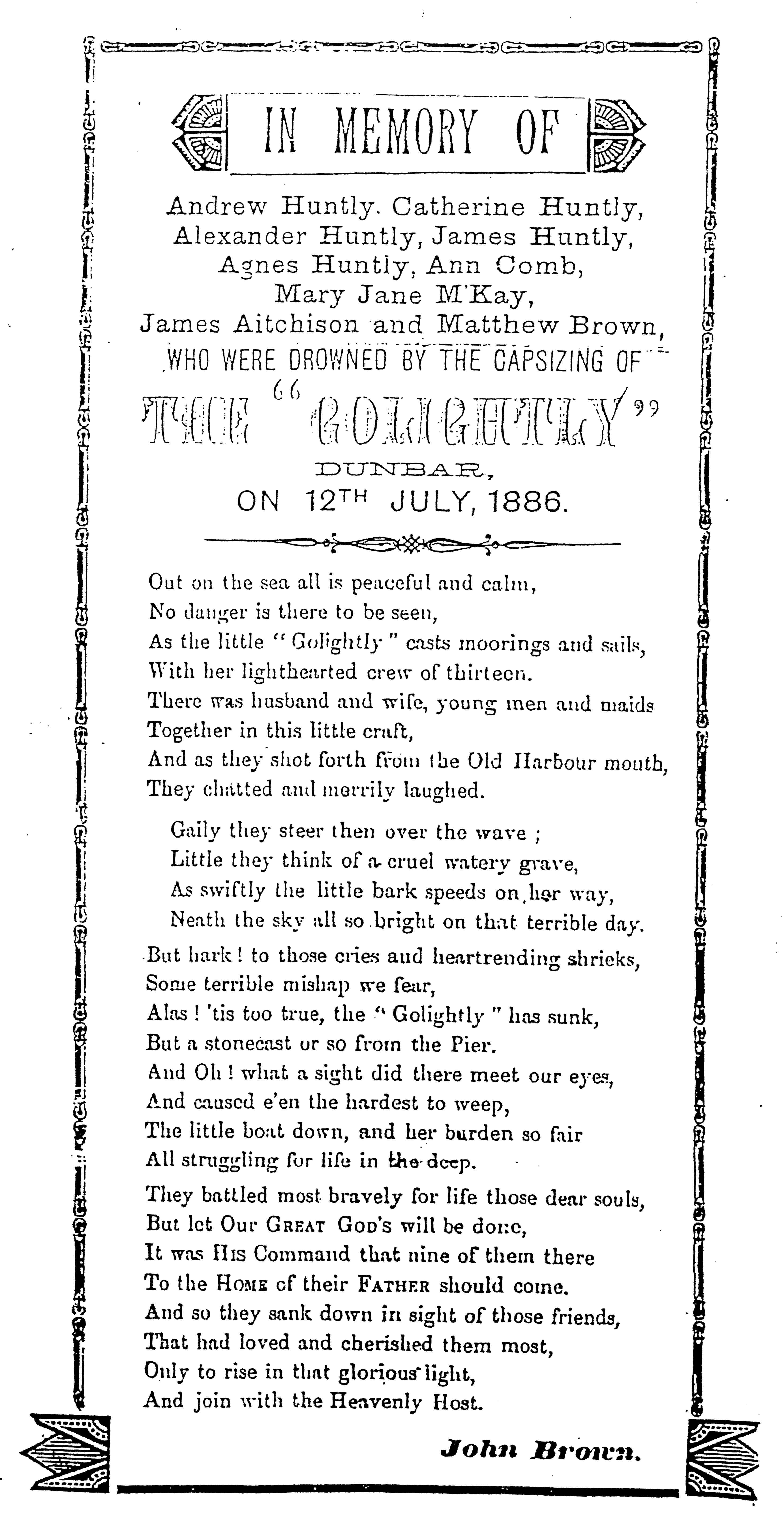 D. Where was the town's Post Service before it was based at the Lorne Hotel?
a) Where else but Post Office Close or nearby; this Close ran down S by E, by the RNLI shop.
E. Who, born at Shore St. in 1928 and referred to as "Bert", was mentioned in despatches for gallantry in Korea and Malaya?
a) Robert Craig.