Johnny Hannan - Footballer Extraordinaire
John Alexander Hannan
Johnny H was born the third and youngest of three sons on Friday the 6th June 1923 at 136 High St. His elder brother Christopher - a Dunbar Toon man - born 1919 and eldest brother Robert "Bob" John was born pre-war at Custom House Square on 3rd May 1914. Parents were John Robertson Hannan, Berwick-born in late Spring '86 (no doubt Wee Poo's parents were on a "fishing" trip) but Dunbar-bred and died here 28th August 1965 and Catherine Jane Robertson, Capital-born on 12/7/1886 at 10 Caledonian Crescent, Edinburgh but Dunbar-bred and died here on 1/10/61. The pair were buried at Deer Park in Lair 97.
Johnny and Co.'s parents were spliced under the Methodist mores (as were his paternal grandparents) prior to moving to the broad High St from 24 Writers' Court and 18 Custom House Square respectively - married at Broxmouth Park's Sea/Lambs' Lodge up along past the Vowthouse, just off Cromwell's Fairway, on April 5th 1912. Fishmonger John R H senior's parents were Robert Hannan and Agnes Raeburn Robertson who wed in the Wesleyan Chapel on the 3rd October 1873. Catherine Jane's parents were Innerwick-born maltster-to-be Christopher Robertson born 1856 and fae up North i.e., Banffshire, Cullen-born Margaret Smith birthed in 1854. They married in Edinburgh on March 24th 1880 at Hartington Gardens in Bruntsfield.
John Robertson Hannan initially worked for the Craig family in their newbuild (c.1912) fish shop atop Old Bank/Miller's Close then set up as a sole trader on the town's West Port. As time went by at No. 136 the elder boys neared their teens but John was ever the bonny bairn. Four semi-detached and sixteen flats classed as the "Edinburgh Road Corporation Development" were on the drawing board and about to be built on the Boroughdales and more were planned; luckily the family of five were offered a ground floor flat, in 1925, at Number 9 and they graciously accepted it. T'was a wee bit further a walk for Christopher and Robert to the Woodbush School but in their new home they were fortunately happy as sandboys. Burgh Surveyor Murdoch's marvel the New (Countess) Road through the Underedge Park from Annie Grahame's brig to the Ashfield underpass was but a plan at that time so it was up the Boroughdales turn right onto Belhaven Road, up to the West Port and along the High Street then doon the Skill Brae.
As the Mid 30's came and went the Hannans were offered a "flit" up to Number 1, a large semi. While elder brother Robert was developing an interest in photography which would serve him and his future Royal Mile clients well and the middle yin was advancing through the education system, young John, fitba daft apart, was a keen member of the local BBs rising to the rank of Sgt under the aegis of Captain Reid, major-domo at the Abbey Church but meeting in Pairish Hall.
Johnny was football daft and some say he was born with a ball attached to his right foot. He was always out playing football from an early age and progressed to the Dunbar School football team where his outstanding ability shone through before joining the local Boys Brigade team where they trained in the Parish Church Hall and later at Laundry Park in Spott Road and Johnny was always very competitive even although some of his opponents were years older than him. In 1938, at the age of 15, Johnny was a member of the Boys Brigade winning team at an East Lothian tournament in Port Seton. Suffice to say Johnny, occasionally abetted by team-mates, stole the show and from then onwards he became something of a local hero with his team-mates singing "Crown Johnny Hannan King of Scotland" all the way home in the bus.
The following year War broke out and to their parent's fearful delight the boys joined up, Bob in '40 joined the RAF, Chris the RAMC in '41 and Johnny joined the Gordon Highlanders in '43. Post-training on the Ellon Road he embarked upon his Italian campaign but was captured at Anzio in '44, becoming a prisoner of war and taking part in what was more than a great trek across Europe to Stalag VIIIB in Silesia.
The 3 - not 4 - Just Men survived the war and were back to the 'Dales in 1945. Johnny was best man at his brother Christopher R Hannan's (22/5/1919-25/7/2012) wedding 8/1946 at Howdenshire. * His wife was Evelyn Mary Acomb (8/1923 -2006) daughter of Joseph Acomb (9/3/1900-1938) and Georgina E Myers (1900-1973).
There was no football at a time when Johnny would have been at his prime but after the war and, at the age of 22, he played for Benburb in the West of Scotland Junior League, probably because Dunbar United did not reform until the following season. His father, who was the Provost of Dunbar and President of Dunbar United FC, followed his career with pride and it was no surprise when he signed for Dunbar United at the start of Season 1946/47 making his debut at the age of 23 in a trial-game against Haddington Athletic, on 1st June 1946, at Countess Park, Dunbar.
Johnny was a stalwart in the Dunbar United team where he remained for ten successive seasons between 1946 and 1956 and made 425 appearances, scoring an incredible 263 goals during this time. He scored 5 goals against Ormiston Primrose at home on 30th August 1947 and repeated the act with another 5 goals against Bonnyrigg Rose at home on 24th August 1949. He scored 4 goals against Rosewell Rosedale on 21st August 1946 at home and on top of that scored ten hat tricks during his time at Dunbar in addition to a brace of goals on 43 occasions and a single goal in another 133 games.
He still to this day is the leading goal scorer in the history of the Club and has made the fourth highest number of appearances in the Club's history. Interestingly enough, with no substitutes in those days, all his appearances were from the starting eleven and none from the bench as is the norm nowadays.
Football then was a much different game than it is today with the leather ball a lot heavier than today's version and football boots with wooden studs. The football grounds around the area left a lot to be desired at that time with drainage at a premium and games were often played in dreadful conditions with the surface often saturated and covered in snow. Social conditions at that time, with no televisions and transport not easy, meant attendances at the games were good and football was the main outlet for the men of Dunbar.
Bearing in mind that the club never won any silverware during his career, 263 goals from 425 appearances is an incredible return for any player, no matter when they played, and although several clubs tried to lure him away from Dunbar with cash offers Johnny remained loyal to his home-town club and it is easily seen why he was so popular with the town's residents. He was paid mostly £5 per season for signing on but never once complained about money and his loyalty and gentleman-ship were admired by all football supporters far and wide.
Johnny eventually retired and left the club at the start of season 1956/57 after a benefit game was arranged for him against Hearts and it was no surprise when a large crowd turned up to say farewell to the great Johnny Hannan "King of Scotland".
Johnny still supported Dunbar United after his career ended and even sent a telegram to the club wishing them success on the occasion of Dunbar United reaching the Scottish Junior Cup final in April 1961. He was made a Life Member of the Club in 1995 and is the only player in the club's history to have been honoured with a local version of "This is Your Life" held in the Dunbar Masonic Club. He is a true football legend, born and bred in Dunbar, who could score goals from anywhere on the pitch and it is very doubtful if his goal tally of 263 goals will ever be beaten. Some say he came too soon into the football world and might have been a millionaire if born later but he certainly left his mark in the town of Dunbar and will always be fondly remembered whenever his name is mentioned.
*Howdenshire was a wapentake (a County division corresponding to the Hundred in other shires) in the East Riding (= one third). It is in the Vale of York and sixteen miles from the aforementioned City.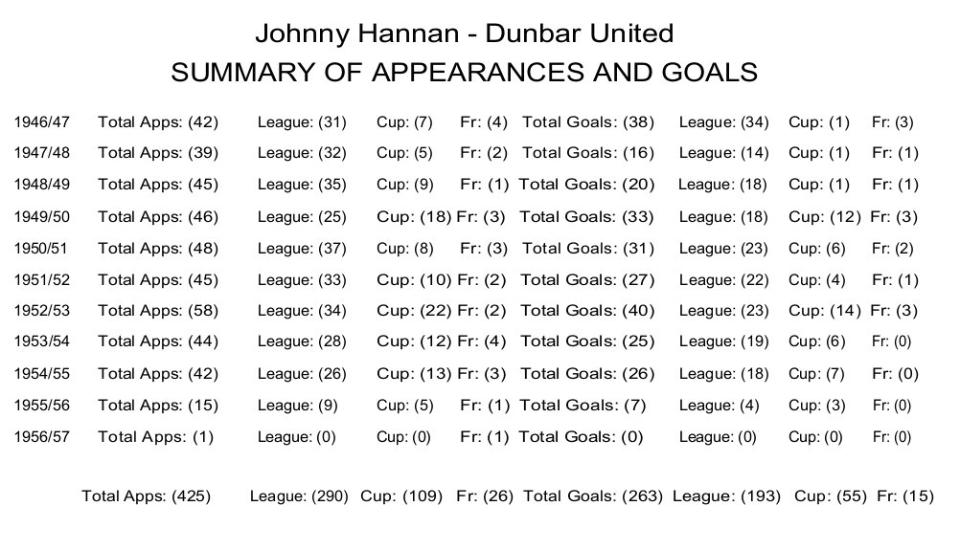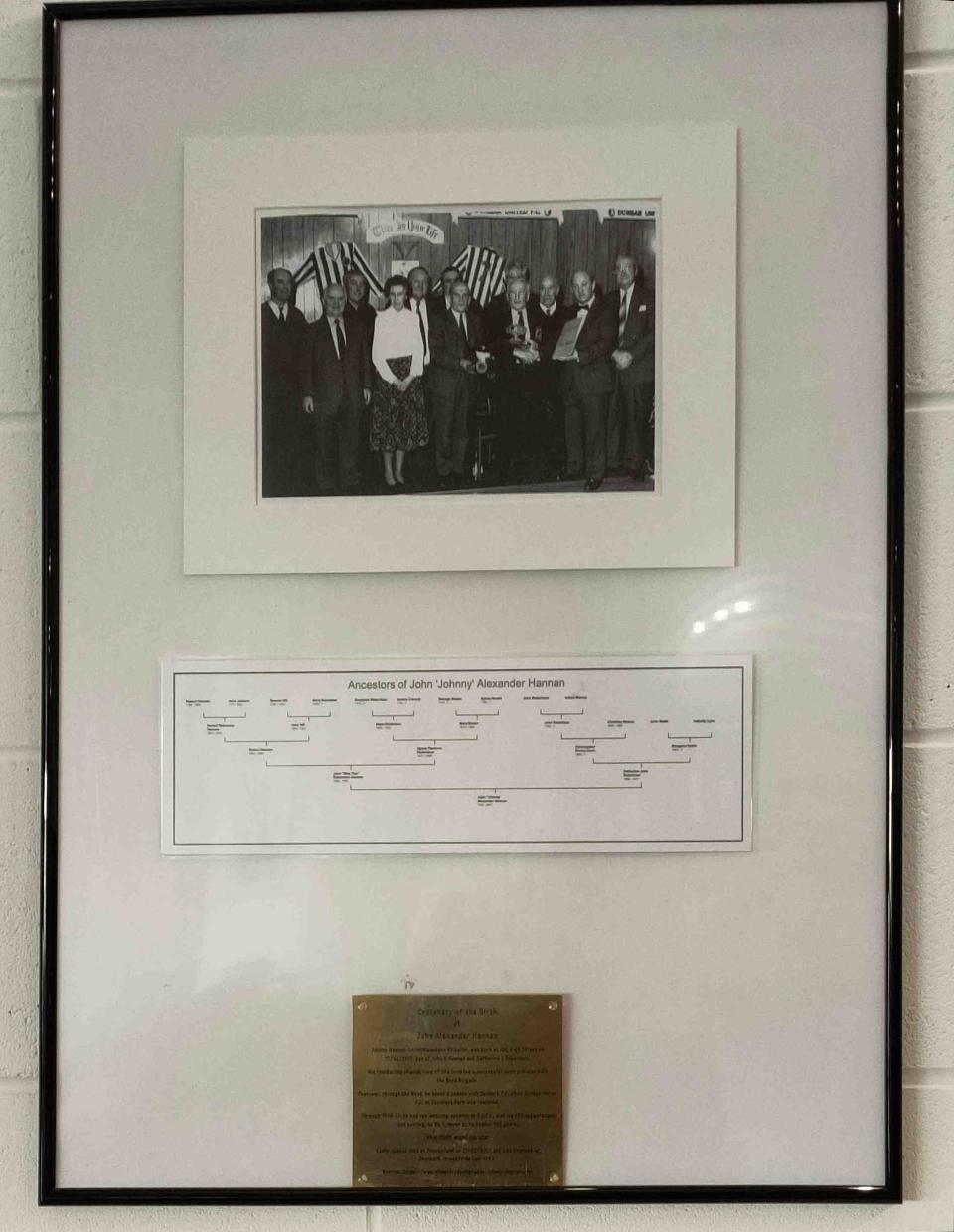 Display at Hallhill Sports Centre
Centenary of the Birth of John Alexander Hannan
Johnny Hannan, Corinthianesque Fitballer,
was born at 136 High Street on 17/06/1923,
son of John R Hannan and Catherine J Robertson.
He had two older brothers, Robert and Christopher.
His footballing chariot race of life included a
quite successful spell pre-war with The BBs.
Post-war, through the West, a season with
Benburb while DUFC Countess Park was restored.
Through 1946-57 he had ten amazing seasons at DUFC,
scoring, as "No7", a never will be beaten 263 goals.
Work-wise, for years he worked for Dunbar's
premier builders Cunningham's and also in Assurance.

What MORE might one add!
Sadly, Johnny died at Pencaitland on 21/03/2001
and was interred at Deerpark, in woodside Lair 1093.
Weblink:- https://www.a1historydunbar.com/Johnny-Hannan.php

Link to Hannan Family Tree in pdf format, click on file name.