Daly's Corner Quiz
Original & Best
13th April 2022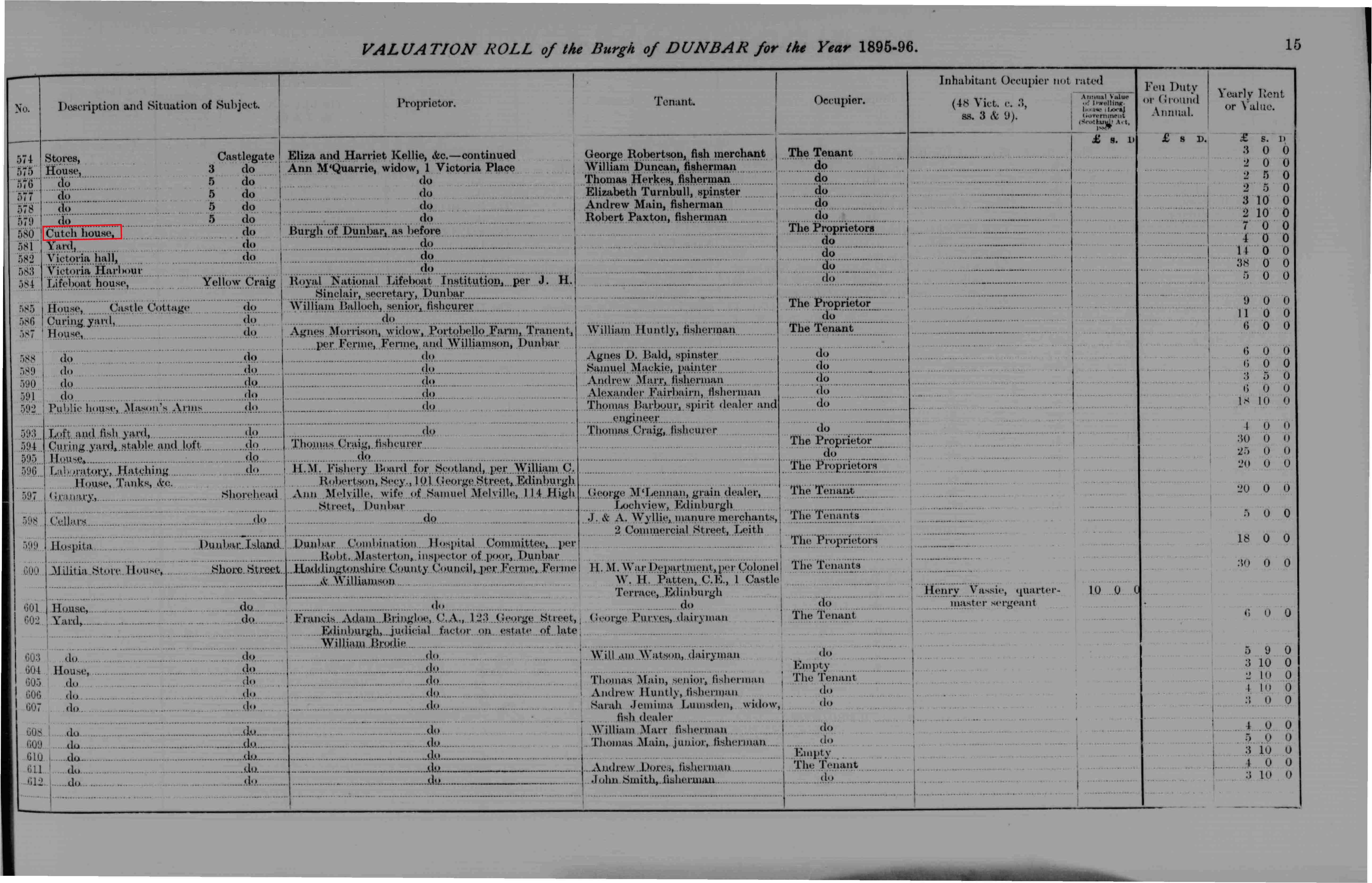 A. What was our town's Cutch House?
a) A facility for barking sails and cables. The fabric would be boiled in cutch, or bark, and dried prior to use. This was a means of preserving, hence all the brown sails!
B. Where was the Cutch house located?
a) At the end of Castlegate en-route to the New Harbour. See red box in the photo below.
C. When was the groyne/brander first laid down on the east of the East Beach, only yards west of Woodbush?
a) 1908
D. Which High Street Closes were either side of Gibson's?
a) Bookless' and Simpson's Closes.
E. Who built the second phase of developments on our North East High Street?
a) Pearce of Berwick who also built Parsonspool, New (Countess) Road Bungalows (half of them) and many more.
Daly's Corner Quiz
Original & Best
13th March 2022
A. What was the profession of William 'Battleblent" Brodie's father, Edinburgh-born Alexander?
a) A wright.
B. When the Denholm family demitted the stewardship of the Old Black or Blind Bull on Dunbar's NE High Street they then went West, but not too far, where Elizabeth White ran the Gateside Inn on the road to East Linton and George farmed for a spell then they emigrated abroad but where to?
a) To the best of our knowledge a branch of the family settled in Uruguay.
C. Where did the 18th hole of the pre-WW2 Winterfield Golf Course run from and where to?
a) Its course was in a Southerly direction from the promenade wall just aside the gate close to the now-demolished Pavilion (west-side) to a point just short of the old Rugby Clubhouse.
D. What were the former names of the present Black Bull Close, not to be confused with the Old Black or Blind Bull Close which was next to Gilrye Place 'til the mid 19thC prior to Bank building?
a) "Miller's" then subsequently "Gibb's Close".
E. Who utilised the vessel "Firebrick" to ferry cargoes to Holland and returned with roof-tiles?
a) William Brodie (born 30th May 1814 at Lauriston and died 7th February 1877 at Battleblent.
Daly's Corner Quiz
Original & Best
13th February 2022
A. Which quarry was located due South of Boy's Buss?
a) Tarry Ship. Some of the material used to build the walls of Lord Lauderdale's mansion came from this quarry which was once owned by the Falls.
B. When was our Lady of Longevity, Isabella Hudson Grahame born?
a) 1888. She died aged 107 years on the 30th January 1995 and is buried in lair K241, in Dunbar Parish Church cemetery, beside her parents and sister. She was the younger sister of George and Jessie, daughter of William Gibb Grahame (Fishmonger) and Eliza Cunningham and was born on oor High St. on 24th July. The parents married here on 20th of June 1884.
C. Where in our town's harbour area is/was "The Malthouse"?
a) Number 7 Shore Street. This is the last house before one reaches the slipway from the Old Harbour to the East Beach.
D. Which house was next to the Malthouse?
a) "Sea Winds" although it was added quite some time later to fill a gap.
E. Who, according to one authority, were deemed to be "The greatest Scottish merchants of the 18thC"?
a) The Falls (of Dunbar).
Daly's Corner Quiz
Original & Best
13th January 2022
A. What sides of the vennel/close at 97 High Street was Old Bank and which was Millers?
a) Old Bank was on the left and Millers on the right coming down from the High Street ingress.
B. When were Craig's premises at 95 High Street built?
a) 1911/12.
C. Where did the Denneval family, owners of a tenement straddling Church/High St, belong?
a) Pinkerton in the mid-1700s but where the wandering weavers were before is hard to establish.
D. Which side of the old Post Office Close did the Blacks, since c1800, run The White Horse pub from?
a) The North side.
E. Who were the architects/developers of the building at 33 High Street?
a) Swanston and Legge, just before the turn of the 20th Century.
Daly's Corner Quiz
Original & Best
13th December 2021
A. How many times did John Wesley preach at our Methodist Kirk?
a) 21.
B. When did the singer on the track above appear at our Hallowed Hall aka Victoria Ballroom?
a) Daniel Boone aka Peter Lee Stirling, born Peter Charles Green, appeared on 18th of April 1964. However, he did not record the two million-seller featured above until approximately seven years later! Nevertheless, as P L Stirling he penned the following - perfect pop - in 1963 prior to his visit here.
C. Where, on the outskirts of Dunbar, did all the Huntlys (ex-Cove and Stenton) dwell in 1841?
a) At The Vaults/Vowthouse on Dunbar Golf Course mid-links. There were eighteen in number, from three extended families, in the three vaulted-ceilinged dwellings facing their haven, shore, siccar and sea beyond.
D. Which two of the present holes on one of our three golf courses did the classic signature and longest par 5 (bogey then) embrace during 1935 to 1938?
a) At the now 18th and 16th par 4s at Winterfield Golf Course (on the formerly Braid designed course).
E. Whose Auld Nickname of Olden Dunbar was "Wubitoff"?
a) R. A. Robertson, the Ironmonger.
Daly's Corner Quiz
Original & Best
13th November 2021
A. What was the record number of goals scored by a DUFC player in a season?
a) 31 goals (in 38 appearances) in season 1953/4 were scored by John McKeown.
B. When was the Allans'-built Primary School on Lammermuir Crescent opened for business?
a) The new Primary, built to accommodate 500 pupils, was ready for access in school year 1951/2.
C. Where was former Dunbar United star Johnny Hannan born?
a) John Alexander Hannan was born on the 17th of June 1923 at 136 High Street. However, the trio of brothers and their parents soon moved to No. 9 Boroughdales then up the same side to the larger No. 1 where he spent the rest of his life.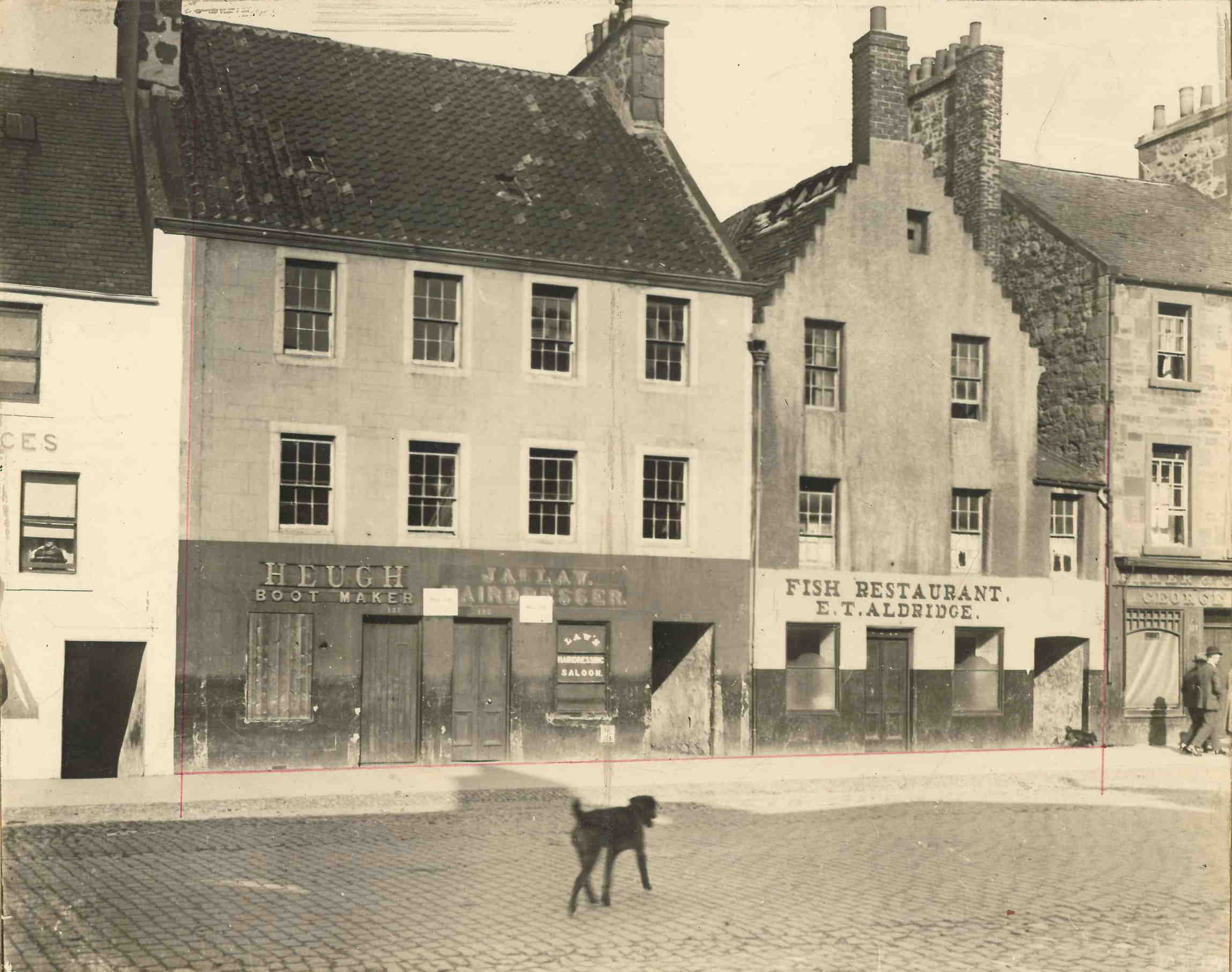 D. Which three of our town's Closes feature in the above photo of Nos 117 to 129 High St., from the late ex-Burgh Surveyor Duncan Murdoch's portfolio?
a) (From l-r) Brown's (ex-Thomson's), Johnston's and Forrest.
E. Who was the Dunbar RFC forward who suffered a broken neck during a 2nd XV match at Winterfield?
a) John A. Craig, 23-years old second row forward incurred this severe injury in a match c1964; his modified stretcher/gurney was a door from the nearby Craig-en-Gelt Hotel. The good governance of Dr Alfred Corden ensured the best possible outcome was achieved. John endured a few weeks in hospital after the incident and married his loyal sweetheart, Ann Cowe, not long after.
Daly's Corner Quiz
Original & Best
13th October 2021
A. What was the High Street café pre- and post-WW2 with connections to a West Port tradesman?
a) The West End Café at 35 High Street which succeeded Cruikshanks Confectioners. It was run admirably by sisters Christina Grant and Catherine Main from the 30s to mid-50s. Their brother was David Main, Master Saddler, father of Willie. They lived upstairs, above the café and Peter Heatly, Right Worshipful Master and Hatter, was their neighbour.
B. When, in a manner of speaking, were the following closed down?
i) Hedderwickhill Racecourse.
ii) Hedderwick Golf Course.
a) i) The last official race day here was Thursday 22/03/1906. Some amateur, "yeomanry" races continued for a few years. This closure process was precipitated by the death of 'Major Domo' of Hedderwick racecourse St Clair Cunningham*, of Hedderwick Hill House - son of James Cuthbertson Cunningham and Jane, née McLachlan (he was also the one who was instrumental in the re-founding of the Gowff Course below), who died on Thurday the 19th of April 1906, contracting lobar pneumonia after playing golf in the rain on Gullane Links. He died at March Hall, 16 March Hall Road in the Capital. *Born October 8th 1857 in Edinburgh.
ii) The Hon. Secretary* advised all that Saturday 01/05/1937 was the date from which the course's upkeep would be discontinued. *Alan Cunningham at the instruction of his mother Elizabeth S Usher.
C. Where on our broad High Street in Victorian times were the Black Bull and White Horse public houses?
a) The Black Bull was atop what is now Gilrye Place and the White Horse was propinquous to it further to the south. The Black Bull was superseded by what was 'til recently the Royal Bank building. The White Horse was located in/or near the building housing the ex-Pettigrew and Shiels premises now the RNLI shop. ln Mid-Victorian times the Denholms ran the Black Bull and the Blacks ran the White Horse.
D. Which building in the Dunbar area is described in inventories as:- Late 18th century 2-storey house; harled and pantiled; stone porch?
a) The Thistle Inn by Broxburn.
E. Who now holds the course record at Winterfield Golf Club?
a) Local man, and son of a former Northern Open Winner Robert, Stuart Martin with a record-breaking score of 58 equivalent to 7 under par. Furthermore, a Ladies course record of 64 was set late last year!
Daly's Corner Quiz
Original & Best
13th September 2021
A. What is the connection with the song above and a Moog synthesizer inspired group who appeared here in the early seventies?
a) Giorgio Moroder who co-wrote the above with Phil Oakey was instrumental in creating the song "Son of my father" which topped the pops in Feb '72. Chicory Tip who recorded the song appeared here with some Christmas cheer in Mid-Dec '72 at our harbourside ex-gymnasium, "The Victoria Ballroom"
B. When was Jimmy Forsyth, stalwart at The Railway Hotel/Dolphin for more than a third of a century, born?
a) James Galbraith Forsyth was born a hotelkeeper's son, on 20th December, a Wednesday, at noon in 1911, at the Caledonian Hotel, Fauldhouse. He was the second son of Thomas Forsyth and Annabella Galbraith. Contrary to popular belief he was schooled, much to his chagrin, privately in the West Riding, Yorkshire and oor kilted cavalier made every sassenach pay for it!
C. Where are Dunbar Roads?
a) They are two, bathymetrically shallow/flattish offshore passages running North West to South East, close to shore in "Dale country" between Scoughall and Seacliff.
D. Which public house/drinking den in Victorian times was situated at 88 High Street?
a) The Prince of Wales, which was located at what is now The Pound Shop, ex-Greco's restaurant and formerly The Doric/Juke Box Cafe.
E. Who renamed Kilahara, a villa on our East Links Road, Tulliallan?
a) Two spinster sisters, the Misses Shields, who moved here around the end of World War II and worked then in the Post Office, named it after this Fife area from where they came.
Daly's Corner Quiz
Original & Best
13th August 2021
A. What is the connection with the King/Goffin track above and our Victoria Ballroom?
a) On Saturday April the 4th 1964 a 24-year-old Bermondsey Boy, Jimmy Justice, (born James A B Little) who trod the boards in our former Army Gymnasium, was the main attraction here in Dunbar on that Spring evening. From the Spring through to the Autumn of '62 he had three hits in the Top Twenty and the above was the biggest seller (in Britain). However, he was possibly more successful in Sweden, parts of Europe and Australasia. recording more than 50 songs on Pye; an anthology of those was released on 2CDs in 2001!
B. When was the last case of matricide in our Breezy Burgh?
a) On May 19th 1989 Douglas Parr (43) murdered his 'nagging', widowed mother Beatrice (65), wife of the late Robert. Strangely, he confessed in the Royal British Legion to former Leith Policeman (Sergeant) and ex-Dunbar Constable Charles Ross who instructed Parr to give himself up. He duly did so and in The High Court, Edinburgh, later that year, (31st August) a jury took less than half-an-hour to find Parr guilty and the Judge committed him to a life sentence.
C. Where exactly did this murder take place?
a) In a cottage on the former Common Close, off Castle Street.
D. Which of the following statements about oor toon, meteorologically, is correct?
i) Dunbar is/was the sunniest resort in our Kingdom.
ii) Dunbar " the warmest " in our Kingdom.
iii) Dunbar " the driest " in our Kingdom.
a) There is a very slight possibility it is (i) but a quite definite probability it is (iii). Our town averages just under 1,450 hours of sunshine but averages 22.50 inches of rain per annum.
E. Who was the daughter of Daniel Muir who died in April 1832 and was buried on 6th April in our Parish Kirkyaird - possibly interred with her mother and grandmother (Janet Kennedy) in Lair A214?
a) Jannet, daughter of Muir and his first wife Eleanor "Helen" Weatherley Kennedy of Warenford, Northumberland. Helen (daughter of a William and Janet Kennedy) was born on 28th August 1800 and died in July 1832. Helen's mother Janet had the Meal shop on the High Street, now John Muir House, and died in February 1829. Helen was buried on 1st August 1832 and earlier she married Daniel Muir at Berwick-upon-Tweed on 7th October 1829.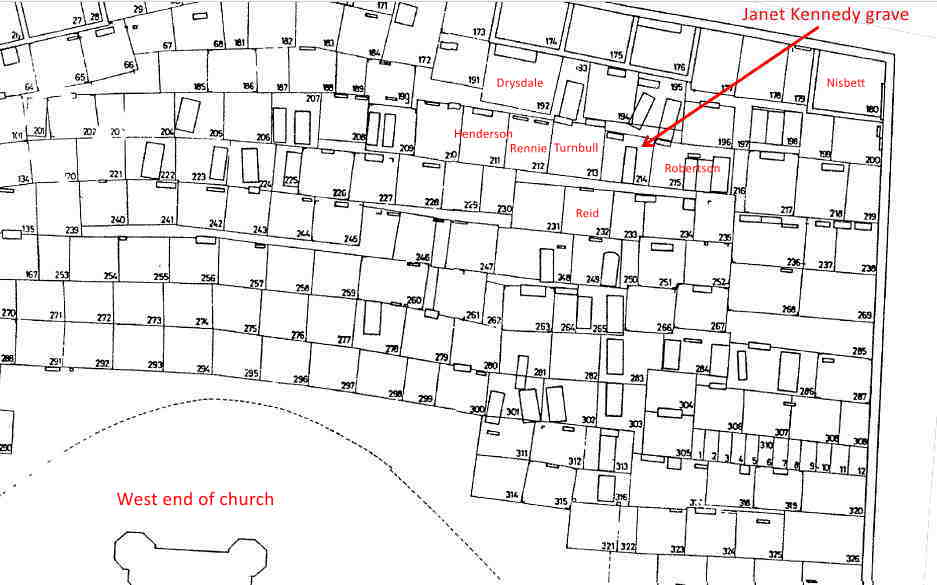 Daly's Corner Quiz
Original & Best
13th July 2021
A. What decision was taken, apropos spending of the monies "gifted" to The Breezy Burgh by Mrs Jane Baird (Hay), by Dunbar Town Council, in the early 1890s?
a) The building of the West Promenade.
B. When were John Aubrey's Miscellanies, which detailed circumstance unnoticed apropos the Battle of Dunbar by Carlyle, published?
a) 1696.
C. Where did the mercenaries who burnt oor toon in 1548, under the orders of the Earl of Shrewsbury, come from?
a) They were Germans from the Holy Roman Empire.
D. Which building in Dunbar did the Government purchase in 1859?
a) Lauderdale House - formerly Dunbar House.
E. Who was the architect who drew up plans, in 1909, to be submitted to the Dean of Guild, for an extension to the west of the Railway Hotel - formerly Black's Railway Tavern - on Dunbar's Church Street?
a) John Farquharson of Haddington.
Daly's Corner Quiz
Original & Best
13th June 2021
A. What year saw the retirement of Provost Brand?
a) 1890. Humbly serving the Council for 30 years, 21 of those as head.
B. When the Episcopal Church of St. Anne was dedicated in 1890 which structure did it replace?
a) An iron building on Baker's Croft at Westgate.
C. Where, traditionally, was the nearest Mile stane to oor toon's centre, bearing in mind a Lang Scots Mile was nearer 2000 yards?
a) Although there was once a mile stone propinquous to the Thistle Inn by Broxburn, closer to home there was also one on the Edinburgh Road due south of Knockenhair. However, the closest to the town centre was atop what is now Bowmont.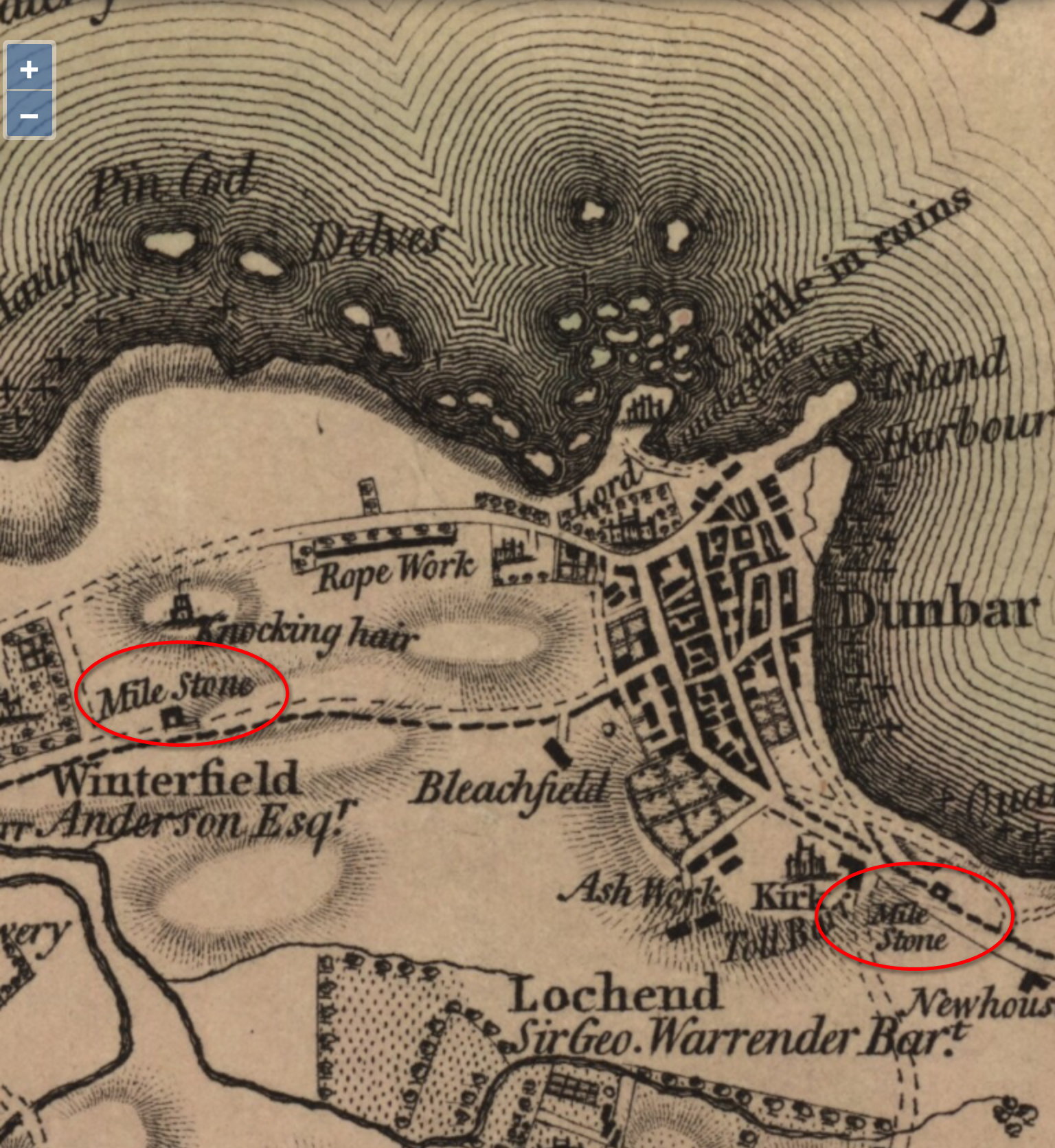 D. Which bungalow on the then New Road (now Countess Road) was called "Craigavon"?
a) Hildaville (#52) now owned by widow Ethel Kelly. It was re-named after Hilda, wife of Erin Deans (of Erinalls fame), the pair were aunt and uncle of Davy Deans, Palace of Pleasure owner from 1956 and sometime Scotland Rugby team squad member. It was originally owned by Arnold Togneri Snr.
E. Who ran the Savoia Cafe?
a) Owned and run by the Greco family it was located at 146 High Street.
Daly's Corner Quiz
Original & Best
13th May 2021
A. What was the profession of Joseph Bard Esq. in mid-eighteenth-century Dunbar?
a) Ropemaker.
B. When were the Bowmont Tennis Courts on the East Links opened?
a) Around 1900.
C. Where are the lands of Longcroft?
a) Farmed as a 'Market Garden' by Sholto Millar, from WW2 through to the '60s, this pocket of land was embraced by Latch Park, Lochend, Harestanes and Underedge (of which some of the latter was utilised) and the Main Railway Line. The aforementioned ground has been developed since the year 2000, creating housing schemes at Salisbury Walk and Bothwell and Retreat Gardens.
D. Which building was described as "Elaborately half-timbered, pargetted and red-tiled?
a) The former Yorke House/Lodge, dating from around 1900 and onetime Cottage Hospital (from 1927). It was monogrammed JHB after John Hutchison Bowe, a potato merchant in Dunbar, b. 13th June 1829, d. 28th October 1900. 12 Bowmont Terrace is similarly monogrammed.
E. Who was the architect for the Edinburgh Road Corporation Houses (Boroughdales) with work starting in 1924/5?
a) George Simpson of Edinburgh.