Daly's Corner Quiz
Original & Best
13th July 2019
A. What was the name for the brae as one approaches Broxburn when one passes what is now Deer Park Cemetery?
B. Which close was better known as "Beatties" through the 30s and 40s?
C. Where was Lousie Law Green?
D. Who were the Squadrone Volante?
E. How was money raised in 1718 and 1738 to finance improvements to Cromwell Harbour?
Daly's Corner Quiz
Original & Best
13th June 2019
A. What was the date on the sundial which once graced the strand-side St Ann's Church?
a) 1649.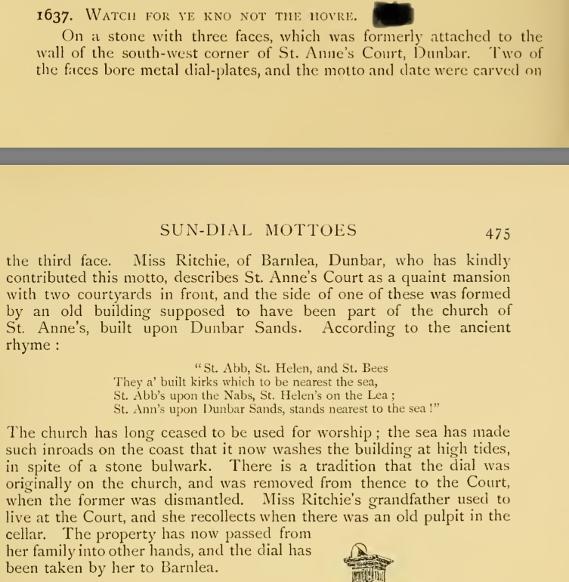 B. How did Silver Street get its name?

a) Some silver coins were found there when workmen were first laying out the street.

C. Which shop, on our once-broad High St, was owned by a member of the 'Forte Clan' and in which year did he take over?

a) Philip Forte, a confectioner, in 1928, owned number 139 (fascia added 1932), formerly The Kilt Shop, Venezia and now Adriano's.

D. Who was the Dunbar fisherman, in 1968, who advertised one of Mackintosh's sweets?

a) Peter "Boups" Johnstone advertised Toffo aboard his boat at our Victoria Harbour. (Toffo was produced until 2008.)

E. Why was Barns Ness so called?

a) Oddly enough, and fact being stranger than fiction, a Mr. Ness owned the barns or granaries located there.
Daly's Corner Quiz
Original & Best
13th May 2019
A. What kind of habitation might the Iron Age people of Lochend have dwelt in?
a) A crannog – possibly propinquous to the present location of 32 Wilson Place, which is the updated location of a massive burial cist of The Iron Age people of Lochend (NT 681 776)
B. When did Dunbar install a formally regulated water supply?
a) In August 1766, an agreement was made with Mr Hay of Spott to bring water into the town, by means of leaden pipes, from St John's Well and the Smithy Well near Spott. The improvement cost a total of £1,700 (around £280,000 nowadays) and was fully operational by September 1767.
C. Where, near the shoreline, were The Breezy Burgh's Poo-pits?
a) On the Custom House Square side of Broadhaven, near MacArthur's Store.
D. Where was the ancient Ruchlaw close?
a) Its course was opposite to the Girnal (Dreadnought), on Lamer Street, through to the Tobacco Close (the Long Lobby) at the rear of the Old Ship Inn
E. Why were the three arches of the town gates partially removed?
a) In order to allow pipes to be laid down to bring water into the town.