Daly's Corner Quiz
Original & Best
13th September 2019
A. What was an earlier name for the signature 14th hole, on Dunbar East Links, which is now erroneously called "Mill Stone Den"?
B. Where, locally, are the Howe, Cauld, and also, slightly farther afield, Ogle burns?
C. Which shop, in our once-broad High Street used to be The Windsor Cafe?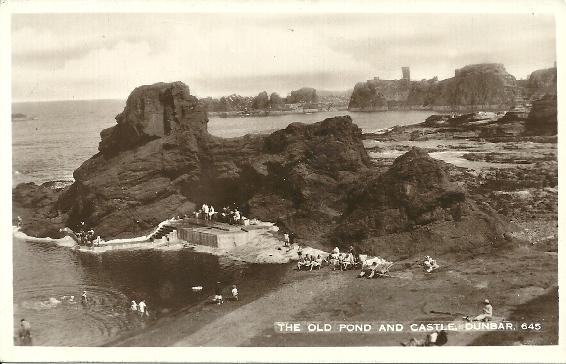 D. In which year was mixed bathing first officially allowed at Dunbar?

E. i) Who were probably the most successful, certainly chart-wise and at the top-of-their game, of all the bands to appear at our once much vaunted Victoria Ballroom?
And
ii) Who from the band had an unnerving experience in 1960 with one of the original Rock-and-Rollers who also guested in our town on the 16th of May 1964?
Daly's Corner Quiz
Original & Best
13th August 2019
A. What have the Deer Park, the Sloebiggin' Tower, Dunbar Golf Club and Brodie's Barometer got in common?
a) They were all created, built or founded in 1856.

B. When was there a serious gas explosion at the Breezy Burgh's New Victoria Ballroom?
a) On Saturday 29th July 1967. J Cairns Boston (our Impresario) was the only "casualty" having been blown through a plate-glass window at around 7:30 pm and he spent some time at Roodlands General Hospital. Our loss was Montrose's gain as come October of that year he joined them as Publicity and Entertainment Officer on the 15th - To many that was the day our "music" died.

C. What Year did Dunbar take part in the "It's A Knockout" TV program on BBC TV and subsequently in the "Jeux Sans Frontieres" European version?
a) 1969. Dunbar ended the local competition in a draw with Burntisland and went through on the toss of a coin to the European round in Martigny, Switzerland. Dunbar were fourth out of five in Martigny, coming last in their Joker round. If they had won their Joker they would have won the competition, coming second in five of the eight rounds.

D. Who is the Dempster in the "new" Newtonlees development?
a) It is one, Montrose born, Henry McIntosh "Jock" Dempster, a former WW2 veteran who moved to Dunbar some years ago. He was awarded an Arctic Star by David Cameron in 2013 and a posthumous award of the Russian Ushakov medal. Jock, survived by his wife Maggie, died on Sunday the 5th of May 2013 in the ERI at the advanced age of 85.

E. Why, amongst the inappropriate novel street names in our "Breezy Burgh", have we acquired "Torry Wynd" and "Bill Torry Memorial Garden"?
a) Like Baillie Court this is, as a name, quite appropriate, unlike many at best whimsical street names in Dunbar South. Willie, as fellow golfers knew him or Bill-Clerk-of-Works at Taylor Wimpey as his workmates knew him, died quite suddenly (in his early sixties) on 17th November 2012 whilst on holiday in London visiting his daughter. He moved from Haddington to Dunbar (Schoolhouse, Park Avenue) quite a few years ago. An assiduous worker, very much a gentleman golfer at Winterfield, as was his father. Will Junior played off single figures for many years.
It turns out, in the Autumn of his golfing years, much to his chagrin, he crossed to the eastern edge of the town and joined the opposition at "The Big Club". A
n all-round nice guy, like his old man, also Willie (William Watson)
who died in Haddington ex-Congalton aged 90, on the 23rd June 2008
.
Daly's Corner Quiz
Original & Best
13th July 2019
A. What was the name for the brae as one approaches Broxburn, when one passes what is now Deer Park Cemetery?

a) Luggit.

B. Which close was better known as "Beattie's" through the 30s and 40s?

a) Logan's.

C. Where was Lousie Law Green?

a) In the Boroughdales.

D. Who were the Squadrone Volante?

a) They were a group of thirty Scottish politicians, including the Duke of Roxburghe, who were instrumental in the "shaping" of the Act of Union. On at least one occasion, and it is recorded, they convened at Broxburn House.

E. How was money raised in 1718 and 1738 to finance improvements to Cromwell Harbour?

a) A duty of one penny was paid on every pint of ale drunk in the town. Quite an expensive tax as beer was, at the time, around two pennies or "tuppence" a pint (a "tuppence" was thus the name for a pint of ale).
Daly's Corner Quiz
Original & Best
13th June 2019
A. What was the date on the sundial which once graced the strand-side St Ann's Church?
a) 1649.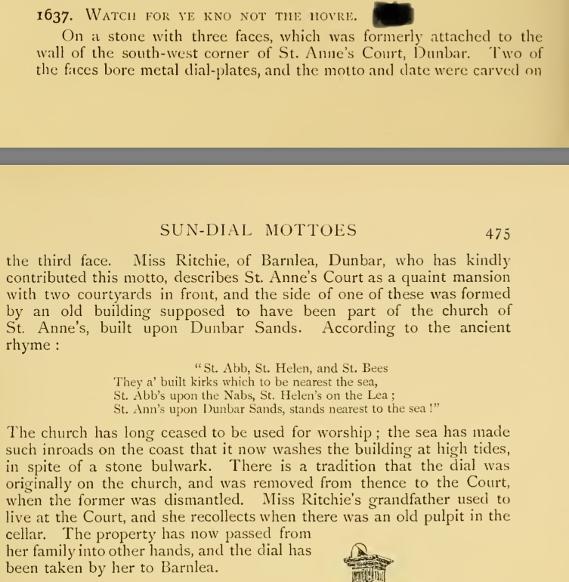 B. How did Silver Street get its name?

a) Some silver coins were found there when workmen were first laying out the street.

C. Which shop, on our once-broad High St, was owned by a member of the 'Forte Clan' and in which year did he take over?

a) Philip Forte, a confectioner, in 1928, owned number 139 (fascia added 1932), formerly The Kilt Shop, Venezia and now Adriano's.

D. Who was the Dunbar fisherman, in 1968, who advertised one of Mackintosh's sweets?

a) Peter "Boups" Johnstone advertised Toffo aboard his boat at our Victoria Harbour. (Toffo was produced until 2008.)

E. Why was Barns Ness so called?

a) Oddly enough, and fact being stranger than fiction, a Mr. Ness owned the barns or granaries located there.
Daly's Corner Quiz
Original & Best
13th May 2019
A. What kind of habitation might the Iron Age people of Lochend have dwelt in?
a) A crannog – possibly propinquous to the present location of 32 Wilson Place, which is the updated location of a massive burial cist of The Iron Age people of Lochend (NT 681 776)
B. When did Dunbar install a formally regulated water supply?
a) In August 1766, an agreement was made with Mr Hay of Spott to bring water into the town, by means of leaden pipes, from St John's Well and the Smithy Well near Spott. The improvement cost a total of £1,700 (around £280,000 nowadays) and was fully operational by September 1767.
C. Where, near the shoreline, were The Breezy Burgh's Poo-pits?
a) On the Custom House Square side of Broadhaven, near MacArthur's Store.
D. Where was the ancient Ruchlaw close?
a) Its course was opposite to the Girnal (Dreadnought), on Lamer Street, through to the Tobacco Close (the Long Lobby) at the rear of the Old Ship Inn
E. Why were the three arches of the town gates partially removed?
a) In order to allow pipes to be laid down to bring water into the town.